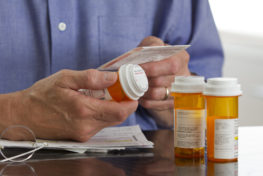 Convictions relating to prescription drug charges can have a dramatic and negative impact on your life, your career and your general future. Whether you have been charged with a prescription drug offense or are currently under investigation for a related charge, the guidance of an experienced lawyer can be invaluable in helping you combat the hefty penalties stemming from an arrest and conviction.
At the Law Offices of Jonathan F. Marshall, our Passaic County prescription drug charges attorneys offer aggressive defense guidance to clients throughout Passaic County, including Totowa, Wayne, Little Falls, Hawthorne, Prospect Park and West Milford. As former prosecutors, our lawyers have the knowledge and experience needed to help you understand the charges against you, the penalties you face and the options you have for defending yourself. Irrespective of whether your case involves oxycontin, roxycontin, vicodin, xanax, or some other form of narcotic pain medication or drug, we possess the know how to successfully defend you.
Aggressive Defense Against Prescription Drug Offenses
Our knowledge of New Jersey drug laws and Passaic County courts allows us to offer the insightful and aggressive defense guidance you need to combat the penalties stemming from a wide range of prescription drug-related charges, including:
In an effort to help you combat the charges against you, we will carefully examine your charges, the events leading to your arrest and the evidence against you before offering advice on your options for defending yourself.
Any information obtained during our examination of your case, including evidence of illegal search and seizure tactics, deviation from police procedures or infringement upon your rights, will then be used to help you negotiate a favorable plea. Of course, should a plea be against your best interests, we will take your case to trial in an effort to fight for the most favorable resolutions possible.
Charged with a Prescription Drug Offense in Clifton NJ?
Contact our office online or call toll free 800-333-4184 to schedule a free consultation to discuss your specific prescription drug charge defense needs.