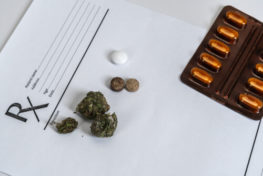 Prescription Drug Possession Lawyers Paterson NJ
Prescription medications can cure our illnesses, relieve our pain and drastically improve our quality of life. However, many of these pharmaceuticals have intense addictive qualities and potentially dangerous side effects when not used pursuant to a physician's prescription. Our experienced Passaic County prescription drug possession attorneys recognize that many people convicted for illegal possession of pills began taking such drugs for legitimate medical reasons but developed a dependency. At the Law Offices of Jonathan F. Marshall, we know that an increasing number of people are arrested and charged with unlawful possession of prescription drugs under N.J.S.A. 2C:35-10.5. The U.S. Attorney for New Jersey has characterized the issue as a "prescription drug epidemic." He has stated publicly that the number of people in New Jersey that abuse prescription drugs exceeds those that abuse methamphetamine, inhalants, heroin, marijuana and cocaine combined.
Prescription Drug Possession Explained. Under N.J.S.A. 2C:35-10.5(e)(2), it is criminal offense to possess "prescription legend drugs" unless the possessor is a physician, veterinarian, pharmacist or dentist. The term prescription legend drugs is a term that refers to drugs that cannot be dispensed under New Jersey or federal law without a prescription by a doctor, dentist or vet. If you are established to be in possession of prescription drugs or pharmaceutical medications without a valid prescription from a doctor, veterinarian or dentist, the prosecutor may charge you with this felony violation. In order to obtain a conviction on a N.J.S.A. 2C:35-10 charge, the prosecutor must prove that you knowingly possessed the drug, either actually or constructively. Constructive possession involves an awareness of the nature of the substance and intention to exercise control over the substance. This means that you may be found to possess prescription drugs even if the pills were not on your person but were nevertheless in your apartment, house, office or car.
Avoiding Serious Penalties for Possession of a Pharmaceutical Drug without a Prescription
The severity of the offense charged will depend on the number of doses. If you are arrested with five or more doses, you may be charged with a Fourth Degree Criminal Offense, which can result in a maximum sentence of 18 months in jail and a fine up to $10,000. If this is your first offense, you may be eligible for pre-trial intervention (i.e. first offender treatment). If you successfully comply with the terms and conditions of probation, the charges may be dismissed after completing the probation period. Anyone arrested for possession of four dosage units or fewer, is subject to a Disorderly Person Offense (Misdemeanor). A conviction of this nature will leave a criminal record for at least five (5) years.
When you speak to an experienced prescription drug possession attorney at the Law Offices of Jonathan F. Marshall you receive the benefit of over a hundred years of collective experience analyzing substantive law, reviewing law enforcement procedures and providing persuasive courtroom advocacy. Our law firm is filled with dedicated Passaic County drug possession attorneys; many are former prosecutors who offer an insider's knowledge of criminal enforcement procedure and prosecutorial tactics. Some of the common pharmaceutical medications include opiates, psychotropic drugs and painkillers.
Discuss Your Case with a Passaic County Prescription Drug Attorney
If you or a family member is arrested for unlawful possession of a prescription medication or pharmaceutical drug, we aggressively challenge the evidence gathered by the prosecutor. We understand that many people accused of possession of prescription drugs are fighting painful addictions arising out of medical treatments involving painkillers, anti-anxiety medication, muscle relaxers and other drugs. Where the evidence against our client makes dismissal or acquittal unrealistic, our attorneys prepare effective applications for diversion to maximize the likelihood that our clients avoid jail. We invite you to call us toll free at 800-333-4184 or contact our office online.  We understand what is at stake and offer tenacious defense of our clients' rights and reputation. Our office has extensive experience representing clients charged with prescription drug offense throughout Passaic County, in towns like Wayne, Clifton, Little Falls, Hawthorne, Passaic City, Paterson and Haledon.