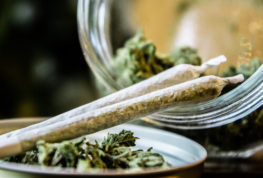 While many people presume that possession of marijuana is a minor offense, the consequences of a conviction for possessing marijuana can result in harsh penalties that may include incarceration, substantial fines, probation, community service and more. Despite the trend toward decriminalizing marijuana, including such attempts in New Jersey, marijuana possession remains illegal in Passaic County and can expose anyone convicted to serious adverse consequences.
At the Law Offices of Jonathan F. Marshall, our experienced marijuana possession attorneys have over a century of collective experience providing zealous criminal defense to those arrested in Passaic County. Our team of experienced former prosecutors possess extensive knowledge in police procedure/prosecutor tactics and a track record of success defending cases in Clifton, Wayne, Hawthorne, Passaic City, Paterson, Woodland Park and elsewhere in Passaic County.
Marijuana Possession Attorneys in Clifton NJ
A Thumbnail of N.J.S.A. 2C:35-10a – the New Jersey Marijuana Law.
New Jersey has made it illegal to possess any amount of marijuana on ones person or their property. Pursuant to N.J.S.A. 2C:35-10a, anyone arrested of possession of fifty grams or less of marijuana may be convicted of a "disorderly person offense," which is New Jersey's term for a misdemeanor offense. If you are arrested for possessing over fifty (5) grams under 2C:35-10, then you are exposed to a fourth degree "crime," which is essentially a felony.
Penalties You Can Expect If Convicted of Possession.
If you are convicted for a disorderly person offense of marijuana possession, the penalty may include six months in county jail, a maximum fine of $1000, a drivers license suspension ranging from six months to two years and a DEDR penalty of $500. Anyone convicted of the crime of marijuana possession for having over fifty grams (i.e. "Fourth Degree Crime" ) may receive a punishment of incarceration in jail up to eighteen months, maximum fine of $15,000, the same drivers license suspension as with the disorderly person offense and a DEDR penalty of $750. If you are convicted of possession of marijuana within a hundred feet of a school in Passaic County, you will also be subject to an additional penalty of a hundred hours of community service.
Passaic County Marijuana Possession Attorney Explains Long-Term Consequences
Although the potential sentence for possession of marijuana is significant, the impact of a conviction may be felt far beyond completion of the terms of your sentence. Any drug conviction including one for marijuana possession will be a matter of public record that is easily discovered by future employers, landlords, universities and financial lenders. A Passaic County marijuana attorney at the Law Offices of Jonathan F. Marshall understands the importance of diligently investigating law enforcement procedures, compliance with your Constitutional rights and issues involving reliability of evidence and witness testimony because a criminal record for possession of marijuana may harm your future education, occupation and financial aid prospects.
Marijuana Charges in Hawthorne NJ
Obtain Tenacious Defense from a Passaic County Possession of Marijuana Attorney
If you are charged with possession of marijuana, a Passaic County possession of marijuana attorney at the Law Offices of Jonathan F. Marshall will diligently explore the possibility for dismissal of the charge(s) or an acquittal at trial. We carefully evaluate the circumstances of your case to develop an effective defense strategy that may include:
Challenging the "reasonable suspicion" for a stop
Seeking exclusion of incriminating statements based on Miranda violations
Exposing unreliable witness testimony or faulty identifications
Insufficient probable cause for arrest
Attacking searches based on lack of a warrant, inadequate probable cause, overly broad search and other defects
Although these are a few examples of defenses we might pursue, we develop other defenses based on the specific facts of your case. We use our own team of forensic experts and private investigators so that we can develop exculpatory evidence early in your case that may be used to secure an application for pretrial intervention or conditional discharge. While our goal is work diligently to obtain a dismissal or acquittal, we also explore these diversion options where they are appropriate.
Marijuana Possession Lawyers in Wayne NJ
If you are arrested for marijuana possession in Passaic County, you should immediately assert your right to remain silent and have an attorney present during questioning. Call us toll free at 862-203-4070 or contact our office online. The decision to discuss your case with us before speaking to the police or the prosecutor can protect your reputation and your future. If you have been charged with marijuana possession under 50 grams, heroin possession, cocaine distribution, marijuana distribution, prescription drug possession and prescription drug distribution in Passaic County, we can help.