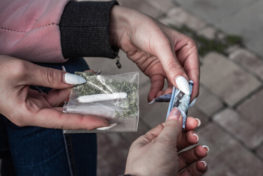 The Passaic County Prosecutors Office aggressively pursues conviction of all intent to distribute charges, including those involving marijuana. Do not be mistaken, there is no free pass because the substance is marijuana – – if its a distribution case, you will be prosecuted like any other form of controlled dangerous substance. Your best short-term strategy for responding to this fact is to retain the best Passaic County Criminal Lawyer you can afford. We would like to believe that our firm, The Law Offices of Jonathan F. Marshall presents a good option for you. We have over a century of combined experience handling serious drug cases, including time working as prosecutors learning how things work from the other side, building relationships, and gaining knowledge as to law enforcement procedures and practices. Our attorneys will carefully analyze the state's case and explore all possible defenses. Give us a call anytime 24/7 for immediate assistance by one of our experienced marijuana defense lawyers. Our office routinely appears in the Wayne, Clifton, Totowa, Little Falls, Paterson, Passaic City and Hawthrone Municipal Courts.
Marijuana Distribution Charges Under N.J.S.A. 2C:35-5
The grade of offense for a possession with intent to distribute marijuana charge hinges on the weight of the drugs involved. In fact, an individual may be charged and/or indicted for Fourth Degree, Third Degree, Second Degree, or even First Degree distribution of marijuana depending on the amount sold.
Fourth Degree: less than one ounce
Third Degree: one once to one pound
Second Degree: five to twenty five pounds
First Degree: more than twenty five pounds
The prosecutor may aggregate the quantity of marijuana involved in multiple sales to determine the level/grade of offense to be charged.
Penalties for Distributing Marijuana
If you are found guilty of a Fourth Degree Intent to Distribute charge, the maximum fine is $10,000. The jail term can reach eighteen (18) months in prison. A third degree carries a fine of up to $25,000 and prison term as high as five (5) years. The maximum fine and jail for Marijuana Distribution in the second degree and first degree are $150,000 and $300,000, respectively, and five (5) to ten (10) years and ten (10) to twenty (20) years, respectively.
Enhanced Penalties in School Zone & Public Park Cases
Distribution in a School Zone Under N.J.S.A. 2C:35-7. If you are charged with possession with intent to distribute in a school zone, that is, within a thousand (1000) feet of school grounds, a period of parole ineligibility applies in the event you are convicted. The parole ineligibility period is at least one (1) year for distribution of less than one ounce and three (3) years for intent to distribute exceeding one ounce.
Distribution in a Park or Housing Project Under N.J.S.A. 2C:35-7.1. When an individual is convicted of intent to distribute in a public park, the grading of the crime escalates by one degree. Accordingly, distributing less than an ounce is a third degree as opposed to a fourth degree. More importantly, a third degree distribution of one ounce or more is enhanced to a second degree. This is significant because a second degree crime triggers a presumption of incarceration.
Marijuana Distribution Lawyer in Clifton NJ
Our attorneys have years of experience defending cases involving allegations of selling marijuana. Just because the police or prosecutor says you sold marijuana does not mean that you will be convicted of distributing. There are many defenses that may be utilized to prevent a successful prosecution, including that it was possession of marijuana for personal use rather than intent to distribute, that the weight was in error, that the drugs were seized in violation of your rights, that the stop was invalid, that your miranda rights were violated or that the search was unconstitutional. Call us and an attorney will be happy to review the facts of your case in detail and advise you of the best options for avoiding a conviction for selling marijuana.We can be reached immediately at 800-333-4184 or you may set up a face to face appointment at our Wayne or Clifton office.