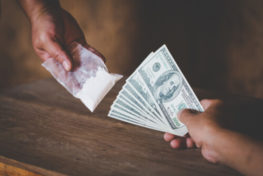 It is illegal to manufacture, distribute or sell cocaine in New Jersey pursuant to N.J.S.A. 2C:35-5. This is the case because 2C:35-5 outlaws these activities for all Schedule II controlled dangerous substances, cocaine being one such drug. The penalties for violating this law and selling cocaine are serious because this charge is always a felony indictable offense. And when the possession with intent to sell involves a school zone or a public park, the situation is even more significant. Call our Wayne Office any time of day at 862-203-4070 if you need assistance for a cocaine distribution, heroin possession, marijuana distribution, Oxycontin possession or heroin distribution offense. An experienced drug trafficking lawyer on our defense team will be more than happy to answer your questions in a free initial consultation. We have been representing clients throughout Passaic County in towns like Wayne, Little Falls, West Milford, Paterson, Totowa, Clinton, Clifton and Haledon for over the last decade.
Possession With Intent to Distribute Cocaine Lawyers Passaic County NJ
Charged With Selling Cocaine Under N.J.S.A. 2C:35-5
N.J.S.A. 2C:35-5(a)(2) provides that is is unlawful to manufacturer, distribute or dispense cocaine. To prove someone guilty of this offense, the state must establish that: (1) the defendant possessed powder or rock cocaine; (2) that he or she manufactured, dispensed or distributed this substance; and (3) that the conduct described in 1 and 2 was knowing and purposeful. With respect to element 2, it will suffice that the accused had an intention to engage in the conduct although they were not actually caught while making an actual sale or manufacturing the cocaine.
How Do You Determine the Grade of a Cocaine Distribution Offense?
The degree of crime is determined by the weight of cocaine involved. If the quantity is five (5) ounces or more, it is First Degree Distribution. If the weight is between one-half ounce but less than five (5) ounces, it is Second Degree Distribution. It is Third Degree Distribution where the weight below a half ounce.
Penalties for Distributing Cocaine in NJ
If convicted of a first degree cocaine distribution, the defendant faces up to twenty (20) years in a New Jersey State Prison, which may include a term of parole ineligibility and a fine up to $500,000.00. If there is an imposition of a minimum term, it will be fixed at, or between, a third and a half of the sentence imposed, meaning that if you are sentenced to twenty (20) years, the court must impose a minimum term of between six (6) and ten (10) years during which time you will not be eligible for parole. Second degree cocaine trafficking carries up to ten (10) years in a New Jersey State Prison and a maximum fine of $150,000.00. A conviction for distributing cocaine in the third degree triggers a state prison term of up to five (5) years and a fine that can reach $75,000.00.
Cocaine Distribution Attorneys in Wayne NJ
It is important to remember that depending on the underlying circumstances and the defendant's prior record, the defendant may be eligible for a diversionary program like Pre-Trial Intervention. If the defendant is eligible and is admitted into the Pre-Trial Intervention Program, it may present the defendant with the opportunity to walk away from the incident without a conviction.