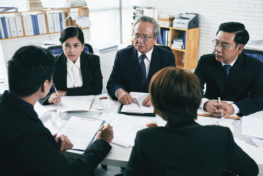 Pretrial Intervention & Conditional Discharge Lawyers
Exploring Every Alternative to Costly Convictions
When facing damaging criminal charges, it is important to understand your defense options and explore every avenue possible to avoid a costly conviction. Whether you have been arrested for drug possession, theft, or domestic violence, the guidance of an experienced lawyer can be key in helping you explore every possible strategy to combat your charges.
At the Law Offices of Jonathan F. Marshall, our Passaic County pretrial intervention and conditional discharge attorneys offer detailed advice to clients facing charges in Passaic County courts. With multiple former prosecutors on staff, we have a unique knowledge of diversion programs for avoiding a criminal conviction, including pretrial intervention and conditional discharge.
Passaic County Felony Defense Lawyers: Avoiding Convictions Through Alternative Avenues
New Jersey criminal law provides programs to allow certain first time offenders to avoid a criminal conviction, including:
Pretrial intervention: Intended for situations involving Third Degree and Fourth Degree indictable crimes ,(felony offenses) and Second Degree offense with the consent of the prosecutor. Pretrial intervention ("PTI") involves a period of probation and, following successful completion, the related charge is dismissed. Having a lawyer who understands this process and possesses a working relationship with Passaic County prosecutors can be invaluable in protecting your future from unnecessary harm stemming from a felony conviction.
Conditional discharge: Designed to address drug offenses at the municipal court level (i.e. disorderly person charges). Conditional discharge allows for avoidance of a conviction following the completion of court-mandated probation and drug therapy. When all conditions of the court order are met, the charges are removed from your record.
When attempting to combat criminal charges, whether through traditional avenues or alternative sentencing strategies, the guidance of an experienced lawyer can make all the difference.
Contact our office online or call toll free 800-333-4184 to schedule a free consultation to discuss your unique charges and learn more about each of your defense options.