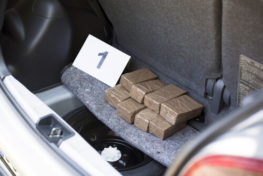 Distribution in a Public Park or Housing Project
Paterson NJ Intent to Distribute Defense Attorneys
A charge of distribution of marijuana or selling heroin or cocaine, involves significant penalties. If the situation involves intent to distribute in a public park or housing project under N.J.S.A. 2C:35-7.1, the situation gets even more serious because a conviction for a public park offense involves, among other things, enhanced jail exposure. If you have been charged under 2C:35-7.1 in the Passaic County Superior Court, it is therefore clearly in your best interests to obtain representation by an experienced drug offense lawyer. In this regard, our firm, The Law Offices of Jonathan F. Marshall possesses multiple former county prosecutors and a team of attorneys ready to fight for you. Give us a call anytime for a free initial consultation.
Avoid a Conviction to Selling in a Public Park
As stated, the consequences of a CDS distribution charge are substantially enhanced when the offense occurs within 500 feet of a public building, public housing project or public park. This explains why this violation is termed a 500 foot offense. A public park for purposes of this law is defined as a playground or recreational property owned by a government entity. Public housing project refers to property that is leased or owned by a public housing authority. When someone is charged under N.J.S.A. 2C:35-7.1 with selling drugs within 500 feet of either a public park or housing project, it is a second degree felony crime. The jail term for a crime of the second degree is between five (5) and ten (10) years in state prison. This exposure is triggered irrespective of the intent or awareness of the accused that he was within 500 feet. Lack of knowledge is not a defense under 2C:35-7.1. Additionally, a second degree offense carries a presumption of incarceration such that there is a substantial likelihood that an individual shall serve a term in state prison if they are convicted of a 500 foot offense.
Seasoned Passaic County Defense Lawyers
If someone is convicted of distributing drugs in a park, the penalties provided under N.J.S.A. 2C:35-7.1 is only the beginning of the story. A criminal record for drug distribution can interfere with employment, housing and even obtaining or renewing a loan. If you were arrested for a 500 foot offense, an attorney at our firm is ready to see you through this difficult situation. Our office represents clients not only in the Passaic County Superior Courthouse but local municipal courts including Totowa, Hawthorne, Passaic City, Paterson and Wayne as well. Call us toll free at 800-333-4184 or contact our office online. We are committed to fighting for you to insure that the adverse consequences of a criminal conviction are avoided.