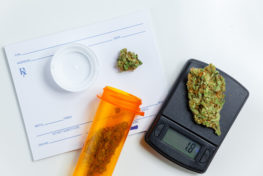 Possession of Less than 50 Grams of Marijuana Lawyers NJ
Marijuana Possession Lawyers in Clifton NJ
Possession of marijuana is the most frequently charged disorderly persons offense our Passaic County criminal lawyers defend. Indeed, the attorneys at our Wayne defense firm probably handle several hundred charges every year for possessing less than 50 grams of marijuana. Although this offense is essentially a misdemeanor, a conviction results in a record and the fines and penalties can be severe on top of it. Thankfully, our attorneys have over 100 years of collective experience defending marijuana possession and are overwhelming successful in reducing and often eliminating the negative consequences of a conviction under N.J.S.A. 2C:35-10. Give us a call anytime 24/7 and a skilled lawyer from our office will be happy to assist you. Here is some important information you want to know about Passaic County marijuana charges.
Grade of Offense. Possessing marijuana in amount less than 50 grams is a disorderly persons offense. While this would not be a felony, the related conviction will show on a criminal background check until it is expunged. The process of eliminating the conviction from your record, termed expungement, cannot instituted until at least five (5) years after completion of probation and payment of all fines.
Fines. A marijuana conviction in accordance with N.J.S.A. 2C:35-10 carries a fine of up to $1,000 and ancillary assessments. There are also supervisory and laboratory fees that are payable in the event of probation or another form of supervision.
Jail. A term of imprisonment in the County jail of up to six (6) months may be imposed for possession of 50 grams or less of marijuana.
Driver's License Suspension. A mandatory six (6) month drivers license suspension is to be imposed by the Court upon conviction for this offense. The suspension period can reach two (2) years, however, if the charge stems from possession in a motor vehicle.
Diversion & Conditional Discharge. A diversionary program termed conditional discharge exists in New Jersey for those charged with possessing marijuana. There are strict guidelines for admission into this program, which is for a term of one (1) year, and our attorneys can help you through this process if it is determined that you can and should opt for this program.
Wayne NJ Marijuana Possession Attorneys
Give us a call for immediate assistance from an attorney experienced in marijuana charges.