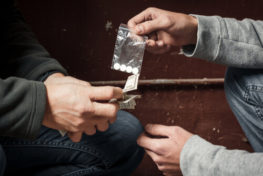 Prescription Drug Distribution Lawyer in Paterson NJ
When people hear the terms "drug trafficking" or "drug dealing," it usually conjures up images of street drugs like heroin, methamphetamine, marijuana, molly, steroids or cocaine. However, drug distribution increasingly is not the result of a covert makeshift labs or cocaine imported through drug cartels. In fact, more people die each year from drug abuse that initially arose out of a legitimate prescription use than overdose of street drugs. The number of fatalities attributed to prescription painkillers has tripled during a recent seven year period. Law enforcement authorities are particularly vigilant about prescription drug distribution because oxycodone and similar prescription pills and medications are often the first drug tried by teenagers. Approximately, 2,500 teenagers per day use a prescription drug to achieve their first high
Oxycontin Distribution Lawyers in Paterson NJ
At the Law Offices of Jonathan F. Marshall, our Passaic County prescription drug distribution attorneys have more than a hundred years of experience practicing law. We use a network of private investigators and a staff of lawyers that includes former assistant district attorneys who have prosecuted hundreds upon hundreds of drug cases in dozens of municipalities throughout New Jersey. We aggressively challenge Constitutional violations, including searches and arrests without sufficient probable cause, unlawful searches conducted in the absence of a warrant or valid exception. We pursue all viable legal defenses in our effort to obtain a dismissal of the case against our client or a plea agreement that protects our clients' freedom and reputation.
What is a Prescription Drug in NJ?
Prescription pills and medications like oxycodone are forms of controlled dangerous substances ("cds") of  that are referred to as "prescription legend drugs." Prosecutors and legislators in New Jersey take the issue of prescription drug distribution in Passaic County and throughout New Jersey so seriously that they enacted N.J.S.A. 2C:35-10.5 in response to the issue. The statute imposes significant penalties for selling pills or other prescription medications regardless of whether the prescription drug was acquired through lawful means, such as a doctor's prescription, or unlawful means like prescription fraud or prescription forgery.
Prescription legend drugs are CDS that may only be obtained and possessed lawfully with a valid prescription by a doctor, dentist or veterinarian. Distribution of prescription legend drugs like Vicodin, Fentanyl, Xanax, Diazepam, Percodon and similar drugs is an indictable crime (i.e. New Jersey's term for a felony). The severity of the penalty depends on the quantity of the drug involved.
Four Pills or Less: Anyone convicted of distribution of four or fewer pills may face prosecution for a 4th degree crime offense, which may result in a term of incarceration of up to 18 months and a maximum fine of $10,000.
Five to 99 Pills: If one is arrested and charged with selling 5-99 pills, he or she may be charged with a 3rd degree criminal offense. Incarceration for this level of offense can result in a term of imprisonment of five years and a potential fine of $200,000.
Hundred Pills or More: Intent to distribute this quantity of pills can result in a 2nd degree conviction, 5-10 years in prison and a fine up to $300,000.
In determining the quantity for purposes of grading the offense and determine the sentence, the prosecutor may be permitted to aggregate the pills from multiple transactions. Given the exposure to lengthy jail or state prison terms and enormous fines, it is important to retain an experienced Passaic County prescription drug distribution attorney at the earliest opportunity. If you are caught distributing prescription narcotics near a school, public housing facility or public park, you may face penalty enhancements.
Passaic City Prescription Drug Distribution Attorney
If you or a family member is indicted or arrested for selling, intent to distribute or distribution of prescription pharmaceutical drugs, we aggressively challenge the evidence gathered by the prosecutor and expose Constitutional violations by police. Where the evidence against our client makes dismissal or acquittal unrealistic, our Passaic County prescription drug distribution attorneys also can work diligently to obtain a reduction of charges so that you may be able to seek diversion. We invite you to call us toll free at 800-333-4184 or contact our office online. We understand what is at stake and offer tenacious defense of our clients' rights and reputation. Our office has extensive experience representing clients charged with distributing prescription drugs in towns like Totowa, Haledon, Passaic City, Paterson, Hawthorne, Little Falls and Bloomingdale.