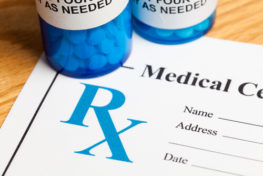 Passaic County Prescription Pads, Tablets & Blanks Lawyer
Prescription drug abuse and arrests are on the rise, claiming the lives of forty individuals per day. The Drug Enforcement Agency (DEA) and New Jersey law enforcement authorities have become extremely vigilant about the war on drugs when it comes to prescription medications. Thousands of residents throughout Passaic County and the rest of New Jersey seek drug treatment for addiction to prescription pills and medications each year. The rapidly mounting number of people addicted to prescription narcotics like painkillers (opioids), stimulants, Benzodiazepines, muscle relaxers and sleeping medications has spurred a sharp rise in the number of people arrested for prescription drug offenses.
The most common source of possession and distribution of prescription drugs without a lawful prescription is prescription theft. Unlawful taking of prescription pills may occur from theft by employees, nurses, cleaning staff or others in a medical office, hospital, dental practice or even a veterinarian office. While theft of prescription pills or medications in other forms may be one scenario that results in unlawful possession of prescription drugs, an even more common situation involves theft of prescription pads, tablets or blanks. These stolen prescription pads or blanks are then used to forge prescriptions or otherwise obtain prescription medications by fraud or misrepresentation. When the person that committed theft of the prescription blank or tablet tries to have the prescription filled, it results in an arrest.
Anyone who engages in theft by deception to obtain a prescription pad or blank for illegally obtaining prescription drugs may be found guilty under N.J.S.A. 2C:20-3. Prescription theft is usually charged as a 3rd degree crime, which is punishable by up to 5 years of incarceration and fines that can be as much as $100,000. When a person is charged with prescription theft in Passaic County, the charges frequently will also be accompanied by criminal charges for the offense of prescription fraud (N.J.S.A. 2C:35-13) and / or prescription forgery (N.J.S.A. 2C:21-1). Both of these Passaic County offenses also are typically charged as a 3rd degree offense.
Aggressive Advocacy for Those Accused of Prescription Theft in Passaic County
If you are facing arrest or indictment for prescription theft involving an unlawful taking of pills or prescription tablets, blanks or pads, an experienced Passaic County prescription theft attorney at the Law Offices of Jonathan F. Marshall provides a zealous defense to prescription theft as well as prescription fraud and prescription forgery. Our dedicated team of Passaic County prescription theft attorneys has more than a century of legal experience.
An experienced Passaic County attorney at the Law Offices of Jonathan F. Marshall offer careful investigation, thorough legal research, persuasive legal arguments and impassioned advocacy when our clients are faced with threats to their freedom, career and reputation arising out of the offense of prescription theft in Passaic County. Call us toll free at 800-333-4184 or contact our office online. We are committed to zealously fighting for our clients by defending their Constitutional rights and forcing the state to prove every element of the offense beyond a reasonable doubt.