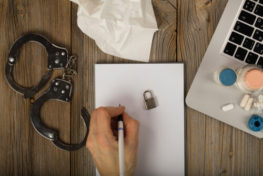 Wayne NJ Prescription Fraud Attorneys
Because prescription drug abuse is growing at an exponential rate, New Jersey law enforcement and federal drug enforcement agents (DEA) are focusing far more resources and attention on enforcing criminal penalties associated with prescription drugs. The Center for Disease Control (CDC) reports that forty people die on a daily basis because of prescription painkiller abuse. New Jersey law enforcement agencies view recent increases in prescription drug abuse as an epidemic so they tenaciously pursue investigation and prosecution of prescription fraud. Our experienced Passaic County prescription drug fraud attorneys at the Law Offices of Jonathan F. Marshall recognize that Passaic County and New Jersey are not insulated from the increase in abuse of prescription drugs. New Jersey drug treatment facilities admitted over 7200 people in 2010, which represented a 27 percent increase from the previous year. New Jersey narcotic units are particularly aggressive about prescription drug abuse because the U.S. Drug Enforcement Agency has indicated that prescription medications, like painkillers (Opioids), cause more fatal overdoses annually than street drugs like methamphetamine, cocaine and heroin.
Passaic City NJ Prescription Fraud Attorney
Overview of NJ Prescription Fraud Law
Prescription fraud in New Jersey is a 3 degree crime (i.e. felony) under N.J.S.A. 2C: 35-13. If you are arrested, indicted or served with a criminal complaint for obtaining prescription drugs by fraud, you should decline to answer any questions and immediately seek legal advice from a proven prescription fraud attorney at the Law Offices of Jonathan F. Marshall. When you put our Wayne & Clifton NJ criminal defense law firm behind you, you are relying on over a hundred years of combined experience to protect you from the potential of five years in state prison, a fine up to $50,000 and a six month driver license suspension.
The practice of obtaining prescription drugs by fraud or misrepresentation is extremely common. N.J.S.A. 2C:35-13 makes it unlawful to obtain or acquire any controlled dangerous substances (CDS) in pills or other form via "fraud, misrepresentation or deception." While a violation of this offense can take many forms, some of the most frequent cases of alleged prescription fraud involve those who work in medical offices and have access to prescription pads. The prescription pad or blank may be stolen and forged to obtain prescription drugs, such as oxycodone, hydrocodone, oxycontin, percocet, vicodin, and benzodiazepines.
In other situations, those arrested for prescription drug fraud called in a prescription on the doctor's behalf and then arranged to have the prescription filled. When one forges a prescription by altering the number of pills or signing a prescription blank, this may constitute both prescription forgery and prescription drug fraud although you can only be sentenced for one of these offenses because they merge if you are convicted.
An attorney highly experienced in defending prescription fraud cases is available to answer your questions and discuss how we can successfully defend you. Our team of attorneys includes former prosecutors who conduct careful analysis and investigation so that we can seek dismissal in plea negotiations. If this is not possible, we frequently pursue a diversion program, such as a Conditional Discharge or Pretrial Intervention (PTI). If you have prior convictions that disqualifies you from participating in a diversion program, we will negotiate aggressively to obtain a reduction in the charges and limit your exposure. While most cases settle before trial, we are prepared to skillfully and professionally prepare your defense and fight aggressively for a verdict of not guilty.
Proven Prescription Fraud Attorney in Passaic County NJ
At the Law Offices of Jonathan F. Marshall, our Passaic County prescription fraud attorneys understand the potential consequences of a conviction and work diligently to preserve your freedom, future and reputation. We are committed to constructing an effective defense so that we can negotiate with the prosecutor from a position of strength while looking for legal and equitable defenses that will justify a dismissal. Our team regularly defends clients charged with drug offenses in towns like Little Falls, Hawthorne, Haledon, Totowa, West Milford, Bloomingdale and Passaic City. If you would like a free consultation, please call us toll free at 800-333-4184 or contact our office online.