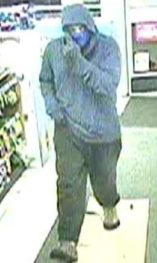 7-Eleven Store in Little Falls NJ Victim of Armed Robbery
The Little Falls Police Department is currently investigating an alleged armed robbery of a 7-Eleven convenience store which took place early Monday morning. According to the information released thus far, the suspect is described as a male between 20 to 25 years of age and standing about 5'6. Apparently, he entered the Little Falls store at around 2:20 am Monday morning armed with a 12 inch knife. He approached the counter, flashed the knife and demanded all the money in the register. After grabbing the money from the register, the suspect fled the scene.
The Little Falls police are currently speaking to the Saddle Brook police department as a similar robbery occurred in their township early Sunday morning. Both police departments are seeking any information from the public that may help crack this case. They have even posted a photo of the alleged suspect as he entered the 7-Eleven in Little Falls. If the suspect is caught and prosecuted, he faces up to twenty (20) years in a State Prison on each case if convicted. In addition, armed robbery falls under the No Early Release Act, which mandates that a Defendant serve at least 85% of their sentence before they can become eligible for parole.
Robbery Lawyers in Paterson NJ
The Law Offices of Jonathan F. Marshall has eight criminal defense lawyers on staff, making our office one of the largest criminal defense firms in the State let alone Passaic County. If you have been charged with a crime like robbery, burglary, heroin possession, heroin distribution, cocaine possession, unlawful possession of a weapon or aggravated assault in towns like Little Falls, Totowa, Paterson, Passaic City or Clifton, we can help. To schedule a free initial consultation, please contact our office at 973.839.4007. Our Passaic County criminal lawyers are available 24/7 to help assist in any way possible.