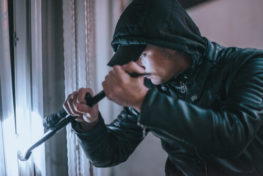 Most individuals are familiar with the term burglary, yet they do not fully understand the elements of the offense or the penalties associated with it. Burglary could be most simply defined as unlawfully breaking and entering into the structure of another with the intent to commit an offense while inside. Burglary is a second degree crime or third degree crime in New Jersey in accordance with N.J.S.A. 2C:18-2. Both grades are an indictable criminal offense. If you have been charged with burglary, your case will be heard at the Passaic County Superior Court in Paterson NJ. It is always advisable to have an experienced criminal lawyer at our side when facing a charge as serious as this felony offense as even a car burglary is at least  third degree. An attorney on our defense team would be more than happy to discuss how we would best serve you in fighting this charge (862-203-4070). We have been representing clients charged with burglary, robbery, theft by deception, carjacking, receiving stolen property and shoplifting in Passaic County for over a decade.
Passaic County NJ Burglary Defense Lawyers
How Does The Prosecutor Prove a Burglary Charge?
Pursuant to N.J.S.A. 2C:18-2, there are three (3) ways for the State to convict a person of burglary.
If someone enters a research facility, structure, or a separately secured or occupied portion thereof unless the structure was at the time open to the public or the actor is licensed or privileged to enter;
Surreptitiously remains in a research facility, structure, or a separately secured or occupied portion thereof knowing that he is not licensed or privileged to do so; or
Trespasses in or upon utility company property where public notice prohibiting trespass is given by conspicuous posting, or fencing or other enclosure manifestly designed to exclude intruders.
However, merely entering or remaining within a structure (including a car) is insufficient to warrant a conviction for burglary. The State must also prove that the defendant intended or had the purpose to commit a criminal offense while in the structure. The State need not prove, however, that the offense actually occurred but only that there was an intention to do so upon entry. In determining whether an accused possessed the necessary intent, the fact finder may infer from the facts surrounding the incident that this requirement has been met. This is probably most easily established when someone breaks into a dwelling or car that is not their own.
Burglary Charges in Clifton NJ
What Is The Difference Between Second Degree and Third Degree Burglary?
Burglary is generally graded as a crime of the third degree. However, a burglary escalates to a second degree crime under N.J.S.A. 2C:18-2 if either occur during the course of the burglary: (1) the accused purposely, knowingly or recklessly inflicts, attempts to inflict or threatens to inflict bodily injury on anyone during the course of the burglary; or (2) the accused is armed with or displays what appears to be explosives or a deadly weapon. An act shall be deemed "in the course of committing" an offense if it occurs in an attempt to commit an offense or in immediate flight after the attempt or commission.
What Are the Penalties If You Are Convicted of Burglary?
If convicted of burglary in the second degree the defendant will face five (5) to ten (10) years in a New Jersey State Prison, as well as a fine up to $150,000.00. If convicted of burglary in the third degree the defendant will face three (3) to five (5) years of imprisonment as well as a fine up to $15,000.00. Additionally, a second degree offense for burglary will carry a presumption of incarceration. In addition, while a third degree burglary is eligible for Pretrial Intervention, a second degree burglary is not.
Little Falls NJ Burglary Defense Attorneys
Our attorneys handle many burglary cases every year. While most of these cases involve houses, apartments, commercial property and business break ins, we also handle our fair share car burglary offenses. There are also those instances where things escalate still further and mushroom into a home invasion charge. If you are facing any variety of breaking and entering offense in towns like Paterson, Wayne, Totowa, Pine Lakes, Clinton, Clifton, Hawthorne or Riverside, our team of defense lawyers know the ins and outs for best defending these charges. An attorney is available now for a free consultation at 862-203-4070.