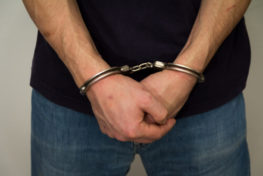 Second Degree Robbery Attorneys in Passaic County NJ
If someone makes the mistake of using force to escape an arrest for shoplifting, they are exposed to a second degree robbery offense. So what may have begun as an attempt to steal merchandise of very limited value, can result in a jail term of five (5) to ten (10) years for robbery if there was a physical confrontation at the scene. This can be extremely shocking to someone faced with this issue as the robbery may have resulted from something as slight as a minor push or pulling away from a security officer. If you have been charged with a robbery because of actions surrounding a shoplifting, you definitely need help from an experienced attorney. Indeed, second degree robbery not only carries a significant state prison term but also involves an presumption of incarceration if you are found guilty of this offense. Give our lawyers a call for a free consultation to discuss your best options for avoiding the penalties you are currently exposed to. We can be reached 24/7 at 862-203-4070.
Wayne Shoplifting Robbery Offense
There are three common types of conduct that can elevate a shoplifting in a robbery. If any of the following occur during commission or escape from a shoplifting, second degree robbery charges may be issued
Bodily Injury or Force Used. If the accused inflicts even the slightest bodily injury or uses force, he or she may be charged with robbery. Bodily injury means physical pain, illness or any impairment of physical condition.
Threatens Bodily Injury. The second way a shoplifting may turn into a robbery is where the accused threatens another person with bodily injury or purposely puts another in fear of immediate bodily injury.
Threatens to Commit a 1st or 2nd Degree Crime. If the accused threatens to commit a first degree or second degree crime during the course of a shoplifting, they may be charged with robbery.
Since a robbery is an indictable offense, the charges are always heard at the Superior Court. This venue is located in Paterson New Jersey. The agency responsible for prosecuting felony cases like this is the Passaic County Prosecutors Office.
Penalties for Second Degree Robbery
As previously stated, the jail term is five (5) to ten (10) years for second degree robbery. The fine is also significant and can be as much as $150,000. There is not only a presumption of incarceration that goes with a conviction to this offense but also triggers the No Early Release Act ("NERA"). Under NERA, a defendant is forced to serve 85% of his/her prison sentence before they are eligible for parole.
Call our Wayne law offices for further assistance on this issue. An attorney on our staff will be happy to provide a free initial consultation and advise you as to what we believe your best course of action is regarding this charge. We are available any time of day at 862-203-4070.