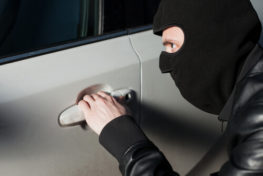 Carjacking is a crime of the first degree in accordance with N.J.S.A. 2C15-2. What this means is that this charge falls within the most serious category of criminal offense provided by New Jersey law. If someone is convicted of carjacking, they face up to thirty (30) years in state prison, as well as other significant penalties. Anyone interested in achieving the best result possible in a carjacking case, should hire the most dedicated and skilled defense lawyer they can afford. Please take a close look at our credentials, as well as those of any other attorneys you are considering. We are confident that you will recognize that we are highly qualified to defend you. We represent clients in all courts throughout Passaic County, including Little Falls, Wayne, Bloomingdale, Hawthorne, Passaic City and Clifton. The following information is intended to assist you and please give us a call at 862-203-4070 or 862-203-4070 for further assistance.
Passaic City NJ Carjacking Defense Attorneys
How Do You Prove a Carjacking Offense?
To prove a N.J.S.A. 2C:15-2 carjacking charge, the prosecution must establish, beyond reasonable doubt, that the accused committed or attempted to commit an automobile theft and, during the course of this conduct, the accused did one of the following:
Inflicted bodily injury or used force upon an occupant or person in possession or control of a motor vehicle;
Threatened an occupant or person in control with, or purposely or knowingly put an occupant or person in control of the motor vehicle in fear of immediate bodily injury;
Committed or threatened to immediately commit any crime of the first or second degree; or
Operated or caused said vehicle to be operated with the person who was in possession or control or was an occupant of the motor vehicle at the time of the taking remaining in the vehicle.
Any one of the above four instances will support a conviction provided the conduct took place in conjunction with the theft or attempted theft of an automobile. It should also be pointed out that there is no requirement that the "force" contemplated under N.J.S.A. 2C:15-2 be anything more than simply pushing an occupant or owner. Finally, it is clear that the victim need not be an "occupant" of the vehicle for 2C:15-2 to apply.
Penalties for Carjacking in New Jersey
As previously stated, carjacking is a crime of the first degree. If convicted, a defendant may face a fine up to $200,000.00. Moreover, pursuant N.J.S.A. 2C:15-2, someone convicted of carjacking is subject to a jail term of ten (10) to thirty (30) years in state prison. The maximum jail exposure for a first degree crime is normally twenty (20) years and the enhancement to thirty (30) years is a reflection of the seriousness of carjacking under NJ criminal laws. In addition to the potential outer limit of the jail term, the law imposes parol ineligibility requirements for carjacking jail sentences. In this regard, the No Early Release Act requires that an individual serve at least eighty-five (85) percent of a jail term before they are eligible for parole.
Clifton NJ Carjacking Defense Lawyers
As you can see, carjacking involves extremely severe consequences if you are convicted. You definitely need a good lawyer if you are facing a 2C:15-2 charge. The Law Offices of Jonathan F. Marshall has eight Passaic County criminal defense lawyers on staff, making our office one of the largest criminal defense firms in the State let alone Passaic County NJ. We have been successfully representing clients charged with carjacking, robbery, unlawful possession of a weapon, theft of moveable property, heroin distribution, marijuana possession in Passaic County for over a decade. Give us a call at 862-203-4070 to discuss your case with an experienced carjacking lawyer at our firm.