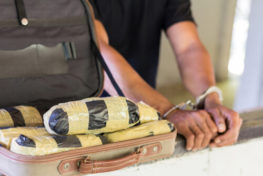 Drug Kingpin Defense Attorneys in Paterson NJ
Given the tenacity of prosecutors when it comes to drug distribution and the fact that a conviction for being the leader of a drug trafficking network carries the potential for life imprisonment, you need a skilled and experienced criminal lawyer if you are charged under N.J.S.A. 2C:35-3. A drug kingpin offense is an extremely serious charge that is not only a first degree crime but carries significant periods of mandatory parole ineligibility. The attorneys at our firm, The Law Offices of Jonathan F. Marshall are ready to assist anyone charged with being a leader of a drug distribution network. We have a team of lawyers that possess over 100 years of experience and includes several former prosecutors. Give us a call anytime 24/7 for immediate assistance.
Narcotics Trafficking Network Leader Defense Attorneys
Who Is Considered a Leader. In accordance with N.J.S.A. 2C:35-3, the prosecutor is required to prove that there existed a conspiracy of at least two individuals to distribute heroin, cocaine, marijuana or some other form of illegal controlled dangerous substance. The "kingpin" or leader of this conspiracy is the person who finances, organizes, manages or supervises this conspiracy to earn a profit.
Penalties Under N.J.S.A. 2C:35-3. A conviction for leading a drug network is a first degree crime. However, while the typical first degree offense carries 10-20 years in prison, this charge triggers a prison term that can be for life. In addition, even when a life term is not imposed, there is a mandatory period of parole ineligibility of twenty-five (25) years.
Experienced Passaic County Drug Kingpin Defense Lawyers
Our drug distribution defense attorneys understand the stakes when a client is charged with being the leader of a drug trafficking operation. We explore the legal basis for searches, analyze the validity and scope of a warrant, and evaluate the actual performance of the search to determine if there is a legal basis for the exclusion of evidence, including narcotics, manufacturing facility equipment or drug production paraphernalia and chemicals. Where the police do not comply with Constitutional limits, we may be able to file a motion to have critical evidence excluded from your case. We explore all potential defenses and you deserve nothing less, especially when you are exposed to such devastating penalties. Whether you are accused of operating, leading, managing, supervising or financing a drug trafficking operation, our lawyers will tenaciously defend your rights and fight to get you the best outcome. Our team of lawyers is ready to assist you and/or your family immediately. We extensive experience in all courts in Passaic County including Totowa, Clifton, Paterson, Passaic City, Hawthorne, Little Falls and West Milford.