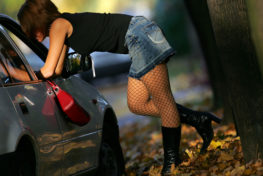 17 Women Arrested & Charged with Prostitution in Paterson
The Passaic Sheriff's Department went undercover last week in an effort to help crackdown on sudden increase in prostitution that the City of Paterson has been dealing with. They assert that the operation was conducted in an effort to improve the quality of life in Paterson. It appears that the Sheriff's Department sent several officer's undercover to possess as customers in an effort to arrest as many women as possible. They claim that prostitution leads to more criminal activity in general, including but not limited too drug possession, drug distribution, robbery and theft. In all, they were able to arrest seventeen (17) different women and charged them with among other things, prostitution. One of the arestee's was found to be in possession of forty-two (42) heroin packets as well.
The Passaic Sheriff's Department has announced that due to the large number of arrests, they feel that these type of operations need to be conducted on a more routine basis. They hope that the crackdown on prostitution might also help with the heroin epidemic that Paterson has been for years.
Promoting Prostitution Defense Lawyers in Paterson NJ
If you or a loved one has been charged with a criminal offense like heroin possession, marijuana distribution, possession of cocaine, prostitution, burglary, theft by deception, aggravated assault or trespassing in Paterson it is imperative that you speak to an experienced Passaic County Criminal Defense Lawyer immediately. The Law Offices of Jonathan F. Marshall has been defending clients charged with various offenses throughout Passaic County in towns like Paterson, Passaic City, Wayne, Clifton, Totowa, Little Falls and Bloomingdale for over a decade. If you would like to set up an appointment to discuss your options with any one of the eight Passaic County criminal defense lawyers on staff please contact our office at 973.839.4007.