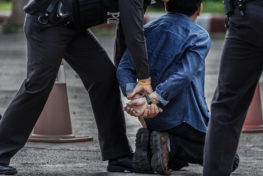 Fear of arrest can cause an individual to elude police by failing to timely stop their vehicle or by attempting to avoid apprehension by evading.  Unfortunately, the offense of eluding is very serious under NJ law and gives rise to significant penalties in the even of conviction, including jail, fines and mandatory drivers license suspension. If you were arrested or charged with eluding police in Passaic County, you need an aggressive and experienced criminal defense lawyer to fight for you. With over 100 years of combined defense experience, our firm, The Law Offices of Jonathan F. Marshall can provide a strong option at your side to avoid the pitfalls of an eluding conviction. We help clients accused of eluding police anywhere in the county, including Hawthorne, Clifton, Totowa, Ringwood, Oak Ridge, Paterson and Wayne. Give one of our lawyers the opportunity to speak to you free of charge at 862-203-4070.
Eluding Attorneys in Wayne NJ
New Jersey Eluding Law Explained – N.J.S.A. 2C:29-2
Eluding police is a felony offense in New Jersey. Passaic County felony eluding convictions are punishable by loss of your driver's license and a possible prison sentence of anywhere from 18 months to 10 years. There are several degrees of eluding offenses according to New Jersey state law:
Fourth Degree Eluding. If by fleeing, you intentionally prevent or attempt to prevent police from arresting you. Fourth Degree Eluding convictions carry a prison sentence of up to 18 months.
Third Degree Eluding. A Fourth Degree Eluding offense can become a Third Degree Eluding offense if you use physical force or violence against a law enforcement officer or threaten to do so. You can also face a charge of Third Degree Eluding if, while driving a motor vehicle, you flee from a police officer who has signaled for you to stop. A conviction for this charge carries a possible 3-5 year prison sentence.
Second Degree Eluding. This is the most severe eluding charge. A Third Degree Eluding offense can be elevated to a Second Degree Eluding offense if you create a risk of injury or death to another person by fleeing or attempting to flee police while driving a motor vehicle. Penalties for Second Degree Eluding include up to 10 years in prison.
Clifton NJ Eluding Defense Attorneys
In addition to extensive criminal defense and trial experience, several of our senior defense lawyers, including Jonathan F. Marshall and Jason Siedman, have many years of experience as prosecuting attorneys. We know what factors prosecutors take into account when determining whether to negotiate a case or go to trial on an eluding charge. This knowledge on the part of our lawyers is beneficial in serving the best interests of our clients. If you would like to speak to one of our experienced Passaic County criminal defense attorneys, call 1-800-333-4184 or email us to schedule a free consultation. We have been successfully representing clients charged with endangering the welfare of a child, criminal mischief, cocaine distribution, marijuana possession, driving while intoxicated throughout Passaic County for over a decade.