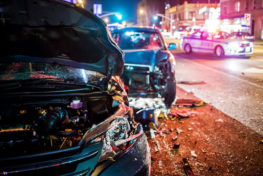 Paterson NJ Death By Auto Defense Attorneys
Whenever someone is killed as a result of an automobile or boat accident and it is deemed a homicide, an individual faces the possibility of facing two charges — Aggravated Manslaughter and Vehicular Homicide. This page discusses the latter offense, including what the prosecutor must establish to obtain a conviction and the potential penalties if someone is convicted for Death by Auto under N.J.S.A. 2C:11-5. More detailed information may be obtained by speaking to one of the vehicular homicide defense attorneys on our staff, perhaps even one of the former homicide prosecutors on our defense team. To this end, we are available 24/7 for consultation at 862-203-4070.
Clifton NJ Vehicular Homicide Defense Attorneys
NJ Vehicular Homicide Law: N.J.S.A. 2C:11-5
In accordance with N.J.S.A. 2C:11-5, captioned "Death by Auto or Vessel", an individual is guilty of vehicular homicide where a homicide is the result of reckless operation of a motor vehicle or boat. N.J.S.A. 2C:11-5 sets forth several situations where recklessness is inferred. In this regard, the law will infer that the accused was operating recklessly if, at the time of the accident, he or she was:
Driving after twenty-four (24) consecutive hours without sleep or feel asleep at the wheel;
Driving while intoxicated; or
Operating a hand-held wireless telephone.
Vehicular homicide is typically a second degree crime except where the vehicular homicide stems from a DWI in a School Zone.
What Penalties Apply Under The Death By Auto Law?
The penalties if someone is convicted of vehicular homicide are severe. As previously stated, this is usually a second degree crime and, as a result, carries a jail term of five (5) to ten (10) years in prison. When the offense escalates to a first degree because of driving while intoxicated within a school zone, the period of imprisonment is ten (10) to twenty (20) years. The maximum fine is $150,000 and $200,000 respectively for second degree vehicular homicide and first degree vehicular homicide. In addition, the No Early Release Act ("NERA") applies to both grades of this offense. NERA requires that a defendant serve at least eighty-five (85) percent of his or her sentence before they are eligible for parole.
Parole Ineligibility for DWI Related Vehicular Homicide
If the violation of 2C:11-5 stems from operation of a motor vehicle or vessel with a BAC above the legal limit or while under the influence of drugs, then a mandatory minimum period of incarceration applies. In this regard, an individual is required to serve the greater of one-third of the sentence imposed or three (3) years during which they are ineligible for parole.
Death By Auto Lawyers With Offices in Wayne & Clifton
A conviction for vehicular homicide results in not only a felony record but a significant jail term which must be served before there is any eligibility for parole. An offense of this complexity requires representation by an experienced defense firm and that is what we can offer you. Our team possesses over 100 years of collective experience, many years of which included time seeing how things work from the other side. We have extensive experience representing clients charged with assault by auto, death by auto, aggravated assault, DWI, DUI and eluding in Passaic County. We regular appear in courts throughout Passaic County, including Paterson, Wanaque, Prospect Park, Woodland Park, Hawthorne and Totowa. We welcome the opportunity to discuss how we can put to this experience to work for you in order to achieve the best result possible. Give us a call anytime 24/7 at 862-203-4070.