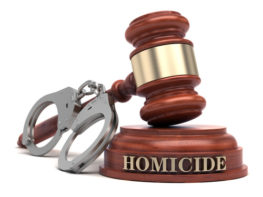 Homicide Charge in Passaic County
The offense known as homicide actually refers to several separate crimes under New Jersey Law. These charges include murder, manslaughter and death by auto. And in Passaic County, homicide is much more common than law enforcement would like. The murder rate in 2010 was, in fact, twice that of the statewide average per 100,000 people. The Prosecutors Office, Office of the Attorney General and the United States Attorneys Office are very mindful of these types of statistics and seek maximum punishment in homicide cases in hopes of deterring future cases. You absolutely need to obtain the best homicide defense lawyer you can afford if you or a loved one has been charged with this offense. Our defense team is available 24/7 to assist you in defending this charge, including assisting you in securing bail (e.g. bail motion). Call our Clifton or Wayne office at 862-203-4070/862-203-4070.
Homicide Offense
Criminal homicide occurs when an individual purposely, knowingly or recklessly causes the death of another human being. One of the following three (3) charges arises when this occurs:
In term of the offense of murder, the death must have been purposeful or knowing. This charge may also arise where someone is killed during the course of the commission of another crime and this is referred to as Felony Murder. In comparison, a manslaughter offense arises where death resulted because of reckless conduct by the accused. Lastly, assault by auto is predicated on operation of a motor vehicle or vessel in consciously disregard of a substantial and unjustifiable risk of death or serious injury. Driving while intoxicated is the most common basis for a charge of death by auto.
For homicides occurring in Paterson, Clifton, Passaic City, Hawthorne, Little Falls, Wanaque, Wayne or another municipality in Passaic County, the law enforcement agency typically responsible for investigating and prosecuting the related criminal charge is the Passaic County Prosecutor's Office. Michael DeMarco, C.A.P., is the Supervising Prosecutor and Captain Chad Wells is the lead investigator of both the Homicide Unit and Vehicular Homicide Units. If the case involves a murder and a particular state law enforcement interest is concerned, for example, the New Jersey State Police, the Attorney General's Office may intervene. If the situation homicide involves an issue of federal jurisdiction, then the United State Attorney Office may prosecute the case.
If you are seeking legal advice or representation regarding any form of homicide, our former prosecutors and skilled defense attorneys are ready to help you. Call us for immediate assistance any time of day.
Additional Resources: