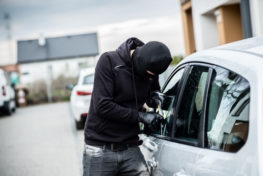 New Jersey has created a special set of penalties where the theft involves an automobile. More specifically, when someone is arrested for car theft, they are not only exposed to a N.J.S.A.2C:20-2 theft by unlawful taking charge but also the additional ramification of N.J.S.A. 2C:20-2.1 and 2C:20-2.2. It should be emphasized that the offense we are referring to here has nothing to do with an entirely different charge known as carjacking. If you or a loved one was arrested for stealing a car, possession heroin, aggravated assault, stalking or cocaine possession our lawyers are highly experienced in defending cases at the Superior Court in Paterson NJ. Give us a call for a no obligation consultation free of charge at 862-203-4070.
Passaic City NJ Car Theft Defense Lawyer
How Does the State Prove a Car Theft Offense?
As a general rule, automobile theft requires an individual to unlawfully take possession of another's vehicle without their consent or authority. The specific elements that must be established, beyond reasonable doubt, are:
The defendant unlawfully took;
An automobile of another; and
With the purpose of depriving the true owner of the vehicle.
With respect to the third requirement, the New Jersey Criminal Code defines "purposely" as having the conscious object to achieve a given end. In other words, it must be the defendant's intention to keep the car.
What are the Penalties for Automobile Theft?
If you are convicted of stealing a car, it is generally a third degree crime. The standard penalties for a third degree crime apply and include three (3) years to five (5) years in prison,  a $15,000 fine, and restitution to the vehicle owner of the value of the vehicle and its contents. In addition, N.J.S.A. 2C:20-2.1 results in imposition of an additional fine of $500.00 for a first offense, $750.00 for a second offense, and $1,000 for a third offense, and a mandatory license suspension of one (1) year for a first offense, two (2) years for a second offense, and ten (10) years for a third offense.
Car Theft Defense Attorneys in Totowa NJ
Car theft is a very serious offense, one that could land you in a State Prison for five years. If you or a loved one has been charged with theft by deception, car theft, carjacking, burglary, robbery and receiving stolen property in towns like Little Falls, Paterson, Clifton, Wayne, Bloomingdale or Wanaque, we can help. Our team of criminal defense attorneys have the experience and skill set needed to successfully protect your rights. For additional assistance regarding an automobile theft offense, give us a call at 862-203-4070.