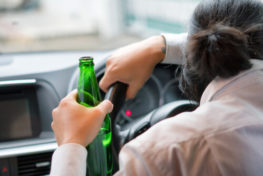 Wayne Underage DWI Defense Lawyers
A person under the legal drinking age of twenty (21) who commits a DWI may be charged with an offense under N.J.S.A. 39:4-50.14. The formal name for this law is "Operation by Person who has Consumed Alcohol who is Below Age to Purchase Alcoholic Beverages", and this statute makes it illegal for someone underage to operate a motor vehicle with any level of alcohol in their blood system. Those in the legal community commonly refer to this offense as a "kiddy dwi" or "baby dwi". While this pedigree of driving while intoxicated carries less severe penalties than a standard dwi offense, most individuals are charged with both offenses. If your child was arrested for underage driving while intoxicated in a town like Wayne, Clifton, or Little Falls, Paterson, Passaic City, Bloomingdale or Totowa our firm, The Law Offices of Jonathan F. Marshall, possesses one of the most experienced and qualified DWI defense teams in the entire state. Give us a call for a free consultation any time of day at 862-203-4070.
What Does The New Jersey Underage DWI Law Say?
As previously stated, the law that applies here is N.J.S.A. 39:4-50.14. This statute provides as follows:
Any person under the legal age to purchase alcoholic beverages who operates a motor vehicle with a blood alcohol concentration of 0.01% or more, but less than 0.08%, by weight of alcohol in his blood, shall forfeit his right to operate a motor vehicle over the highways of this State or shall be prohibited from obtaining a license to operate a motor vehicle in this State for a period of not less than 30 or more than 90 days beginning on the date he becomes eligible to obtain a license or on the day of conviction, whichever is later, and shall perform community service for a period of not less than 15 or more than 30 days.
In addition, the person shall satisfy the program and fee requirements of an Intoxicated Driver Resource Center or participate in a program of alcohol education and highway safety as prescribed by the chief administrator.
The penalties provided under the provisions of this section shall be in addition to the penalties which the court may impose under N.J.S.2C:33-15, R.S.33:1-81, R.S.39:4-50 or any other law.
How Does The Prosecutor Prove an Under 21 DWI?
It should be emphasized that the charge we are discussing here is not N.J.S.A. 39:4-50 but rather an entirely separate offense for operating a a motor vehicle after consuming alcohol underage. Someone commits this offense if they possess a blood alcohol content ("BAC") of any level (i.e. the lowest BAC level a breathalyzer may register is .01%) whereas a regular DWI applies where BAC is .08% or above, or where the case involves a DWI for drugs. It is important to understand that the driver need NOT be intoxicated or under the influence to be charged with this offense as it bars operation with any level of alcohol. The way the prosecutor proves an underage case is through a breath test reading in most cases. BAC may also, however, be established by blood. If there is basically any level of alcohol at the time of operation, a N.J.S.A. 39:4-50.14 violation may be established.
Penalties for an Underage Driving While Intoxicated
The following are the penalties that apply under 39:4-50.14:
Drivers License Suspension Period. As set forth in the statute, an individual's drivers license may be suspended for thirty (30) to ninety (90) days for violating this law. Where an individual falls within this range of suspension is in the discretion of the sentencing judge. There is no hardship or conditional license that is available in the State of New Jersey.
Community Service. A person convicted of a Baby DWI will be required to perform between 15 and 30 days of community service. The exact amount of community service to be required is determined by the sentencing judge.
Intoxicated Driver's Resource Center. The offender will also be required to participate in and complete either the Intoxicated Driver's Resource Center (IDRC) program or a similar alcohol education and highway safety program.
Does this Record Remain Confidential?
No. The record of a conviction under N.J.S.A. 39:4-50.14 is NOT confidential. The information surrounding the arrest is equally as available to employers and colleges as any other adult arrest. As such, a person being charged under 39:4-50.14 should take the charges every bit as seriously as a standard DWI. For more information or representation concerning this charge, please do not hesitate to give us a call at 862-203-4070.