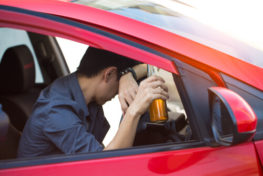 Wayne NJ Underage Drinking Attorneys
Whether it was the result of an incident at William Paterson University, a high school party, or drinking in a car, a conviction for violating N.J.S.A. 2C:35-15 can have serious consequences. If someone under twenty-one (21), the legal drinking age, is found to be under the influence, in possession of or has consumed alcoholic beverages, they face the possibility of not only being subjected to penalties but also having a 2C record that will show on a criminal background check. The situation gets that much more worse when the offense is committed in a motor vehicle, and we are not referring to Underage DWI, but simply being a person found in a car; you face a mandatory six (6) month loss of your driver's license on top of the regular penalties under N.J.S.A. 2C:33-15. The good news is that our attorneys are successful in a large percentage of underage drinking cases in having the original charge downgraded so that there is no record nor license suspension. If you or your child has been charged with possession of alcohol while under 21 in towns like Little Falls, Wayne, Clifton, Paterson, West Milford, Haledon or Hawthorne, give us a call. An attorney on our staff is prepared to advance the best arguments and/or strategy so that a conviction can be avoided. Initial consultations are free and a lawyer is available to speak to you 24/7 by calling our Wayne or Clifton office at 862-203-4070.
New Jersey Underage Alcohol Possession & Consumption Law: N.J.S.A. 2C:33-15
In accordance with 2C:33-15(a), it is a disorderly persons offense to purchase alcohol or to possess or consume alcohol while under twenty-one (21) years of age. While this is the equivalent of a misdemeanor, it will nonetheless show up a conviction on a record lookup. In addition, when the violation is "committed in a motor vehicle", the aforementioned license suspension must be imposed.
Penalties for Underage Drinking
The standard penalties for a disorderly persons offense apply for someone convicted of violating N.J.S.A. 2C:33-15. What this translates into is a county jail sentence that can reach six (6) months and a fine of up to $1,000. In addition, this law allows for imposition of an inpatient or outpatient treatment program and/or alcohol education for a period of six (6) months. Where the violation occurs in a car or other form of motor vehicle, a mandatory period of license suspension of six (6) months must also be imposed.
Clifton Juvenile Alcohol Possession Lawyers
As you can see from the aforesaid, a conviction for consuming, trying to purchase or possessing alcohol can have serious consequences for someone who is underage. The ramifications include, at a minimum, a 2C record that cannot be expunged for at least (5) years. It is literally silly in our view to allow yourself to be subjected to this course when our firm can avoid this from occurring in most cases. Give an attorney at our Wayne office an opportunity to tell you how we would go about reaching the best conclusion of your charge. We can be reached immediately at 862-203-4070.