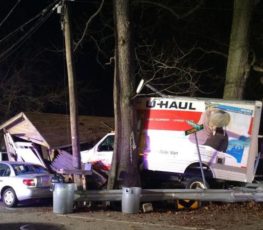 Eluding Defense Lawyers in Passaic County New Jersey
Pursuant to N.J.S.A. 2C:29-2, the offense of eluding in New Jersey can be either a second or third degree felony depending on the facts surrounding the charges. The difference between the two could be the difference between a lengthy state prison sentence and a probationary sentence, even possibly Pretrial Intervention. What will ultimately control in determining whether the eluding charges are a second or third degree is whether the Defendant's conduct "created a risk of death or injury to any person". For more information on the eluding charges in New Jersey, please checkout our Totowa Eluding practice series by clicking the link. If you have been charged with eluding in Paterson, Totowa, Wanye, Clifton, Passaic City or elsewhere in Passaic County, it is imperative that you speak to an experienced criminal defense lawyer about your options. The team of Passaic County eluding lawyers on staff the Law Offices of Jonathan F. Marshall over 100 years of combined experience on staff. Our team has the manpower and skill set required to protect your freedom. If you would like to set up a free consultation, please contact our Wayne office at 862-203-4070. Now here is an article about two individual's from Paterson who have been arrested and charged with eluding, burglary and theft of moveable property in Totowa, New Jersey.
Burglary & Eluding Charges Issued in Totowa, New Jersey
According to the reports released thus far, the Totowa Police have arrested and charged two Paterson residents with burglary, eluding and theft following an incident at a local car dealership while one individual remains on the loose. Apparently local car dealerships in Totowa and elsewhere in Passaic County have been experiencing a wrath burglaries over the last month. Therefore, the Police have been out in full force trying to catch the individuals responsible.
It appears that a Totowa police officer was just on routine patrol when he noticed a couple of individuals looking through car windows inside a car dealership. When the officer went to investigate, the Defendant's took off in a U-Haul truck. The officer chased the Defendant's through the town until they crashed the U-Haul into a garage of a local resident. At this point in time, the officers on scene were able to apprehended two of the Defendant's while one of them was able to flee the scene. The two Defendant's were taken to the Passaic County Jail and are currently being held on a $35,000 bail.
Burglary Lawyers in Paterson New Jersey
If you or a loved one has been charged with a criminal offense like burglary, heroin distribution, possession of marijuana with the intent to distribute, aggravated assault or terroristic threats, the Law Offices of Jonathan F. Marshall can help. We have eight Passaic County criminal defense lawyers on staff, making our office one of the largest in the State let alone Passaic County. If you would like to discuss your options with any one of the eight criminal defense lawyers on staff, please contact our office at 862-203-4070.