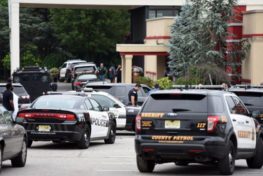 Three Teenagers Charged with Armed Robbery in Clifton NJ
Following a lengthy search by the FBI, Passaic County swat team, the Clifton, Rutherford and Haledon police departments, three teenagers from Newark New Jersey have been arrested and charged with armed robbery. It is alleged that the three Defendant's robbed a taxi cab driver at gunpoint in Clifton, New Jersey. According to an eyewitness, the Defendant's then fled the scene and headed directly for the La Quinta Inn Hotel which is located on Route 3. According to the reports, the police evacuated the entire hotel and adjoining restaurant while the went room by room searching for the three Defendant's. The first Defendant, a nineteen (19) year old Newark native was located thanks to a K9 unit. He was discovered under a mattress in one of the hotel rooms. The other two Defendant's, a sixteen (16) and seventeen (17) year old were discovered in different parts of the hotel.
The two juveniles were arrested and charged with armed robbery and weapons offenses and taken to Delany hall in Newark, New Jersey. The nineteen year old was arrested and charged with armed robbery, weapons offenses and the use of a juvenile in the commission of an offense. Since he is an adult he was taken to the Passaic County Jail which is located in Paterson New Jersey.
Robbery Lawyers in Clifton NJ
The Law Offices of Jonathan F. Marshall is an experienced Passaic County criminal defense firm. Our office has over 100 years of collective experience on staff, including years of prior prosecuting experience. If you have been arrested and charged with a criminal offense in Paterson, Wayne, Clifton or Passaic City, we can help. If you would like to discuss your options with any one of the eight criminal defense lawyers on staff, please contact our office at 973.839.4007. We are available 24/7 to help assist anyway possible.