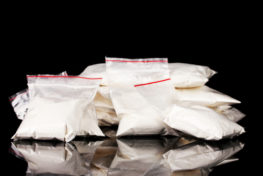 67 Heroin Packets Found During Two Separate Motor Vehicle Stops in Wayne NJ
According to the Wayne Township Police Department two separate traffics stops last week netted sixty-seven packets of heroin. The first traffic stop was conducted based on what the officer's are claiming was an equipment violation. When the officer approached the vehicle he asserts that he noticed the passenger was acting extremely nervous and moving around in a very peculiar way. Based on those observations, the passenger was asked to step outside the vehicle and a search was conducted. During that search the officer's uncovered thirty (30) heroin wax folds. As a result, the passenger was arrested and charged with possession of heroin and the driver was released on a traffic summons.
Then just a few hours later officers arrested two more and charged them with possession of heroin as well. According to the reports released on this incident, the officer's noticed what they claimed to be suspicious activity coming from inside a vehicle located in a parking lot on Route 23. When the officer's approached the vehicle it is alleged that they noticed the driver with a syringe in hand and the backseat passenger with heroin packets located in his lap. As a result a search was conduct and thirty-seven (37) heroin wax folds were located. Both Defendant's were arrested and charged with possession of heroin and possession of syringes.
Heroin Possession Attorneys in Wayne NJ
The Law Offices of Jonathan F. Marshall is an experienced Passaic County drug possession defense firm. If you or a loved one has been charged with possessing heroin, distributing marijuana or possessing cocaine with the intent to distribute in towns like Paterson, Passaic City, Wayne, Clifton, Little Falls or Woodland Park, we can help. Our team of Patersons drug possession defense lawyers have the experience and manpower necessary to defend your rights. If you would like to discuss your options with any one of the attorneys on staff, please contact our office directly at  1-800-333-4184.