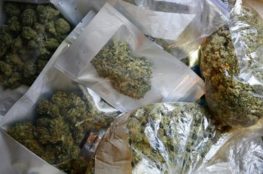 Marijuana Distribution Attorneys in Paterson NJ
In New Jersey, the offense of distributing marijuana can be either a first, second, third or fourth degree felony. Two of the major factors in determining what degree of marijuana distribution a Defendant will be charged with is the quantity of marijuana seized and the location where it was seized. (ie school zone or public park) If your or a loved one has been charged with distributing marijuana in Paterson, it is imperative that you seek the assistance of an experienced Passaic County, New Jersey criminal defense firm. Here at the Law Offices of Jonathan F. Marshall, we have over 100 years of cumulative experience on staff, including years of prior prosecuting experience as well. If you would like to set up a free initial consultation with any one of the eight Paterson, New Jersey marijuana distribution defense lawyers on staff, please contact our Wayne office at 862-203-4070. In addition, if you would like to do more research on the offense of distributing marijuana, please checkout our Passaic County marijuana distribution practice series by clicking the link. Now here is an article about a large shipment of marijuana which was seized in Fairfield, New Jersey.
Fairfield NJ Police Seize 10lbs of Marijuana that was set to be Delivered to Paterson
It appears for the second time in less then two weeks, a major shipment of marijuana was detected at a FedEx facility in Fairfield, New Jersey. According to the Fairfield Police Department, they have seized another ten (10) pounds of marijuana that was set to be delivered to Paterson, New Jersey later in the week. Just like the first shipment, this package was being sent from California and it was also ten (10) pounds as well. The Fairfield police estimate that the 10 pounds of marijuana has an estimated street value of $30,000.
At this point in time no arrests have been made. However, there is an ongoing investigation and the police are seeking any one with any information to come forward. If you have been charged with distributing marijuana, possessing heroin with the intent to distribute, aggravated assault or any other criminal offense for that matter in Passaic County, we can help. Please contact our Wayne, New Jersey office at 862-203-4070 and set up a free consultation today.