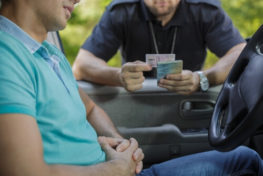 Clifton NJ Driving While Suspended Lawyers
New Jersey law prohibits individuals from driving while their driver's license has been suspended or revoked. If you were caught driving in Passaic County while a motor vehicle license suspension was in effect, you are exposed to significant fines, additional periods of suspension, and possible jail if this is not your first offense. You should know, however, that the lawyers at our firm frequently avoid these penalties, especially a drivers revocation and jail. If you want such a favorable outcome by avoiding the mandatory penalties associated with a conviction, you should contact one of our Passaic County traffic defense attorneys.
Many traffic offenses can result in a license suspension by the New Jersey Motor Vehicle Commission (a.k.a. "Division of Motor Vehicles"). When this occurs, an individual is terms "administratively suspended" by DMV. Another type of suspension results when a license is revoked by Court Order — this is referred to as a "in court" suspension. This often occurs where someone is found guilty of driving at an extremely high rate of speed, DWI, driving without insurance, was convicted for a drug offense, or some other reason. There are also other ways a person's driving privilege can be subjected to revocation, for example, failure to pay child support, accumulation of 12 or more points, or failure to pay surcharges.
Penalties for Driving with a Suspended License in Passaic County
Driving with a suspended license in Passaic County is not a charge to take lightly. The fine for driving with a suspended license starts at $500 and can be in excess of $1000 for repeat offenses. In addition, your license suspension period will be extended if you are convicted. The additional suspension can range from days to years. If it is your first offense, you may receive a jail sentence in addition to fines and the suspension extension. If you were caught driving with a suspended license in a school zone or while suspended for driving while intoxicated or driving without insurance, the penalties you face are enhanced and more severe.
The Best Defense for Your Passaic County Traffic Offense
Unfortunately, many Passaic County drivers may be unaware they are driving with a suspended license—until they are pulled over for a traffic violation. If your license was suspended, you should have received written notice of the suspension. If you did not, this may be a possible defense. A traffic defense attorney can advise you of other possible defenses to driving with a suspended license in Passaic County. With the right legal representation, you can fight your driving while suspended charge and reduce penalties or even avoid a conviction all together. At the Law Offices of Jonathan F. Marshall, our traffic offense lawyers have extensive experience defending clients against traffic offenses in Wayne, Paterson, Clifton, Little Falls, Passaic City, West Milford and other Passaic County municipalities. Call our office at 1-800-333-4184 or send us an email to schedule a free initial consultation with one of our qualified Passaic County traffic attorneys today.