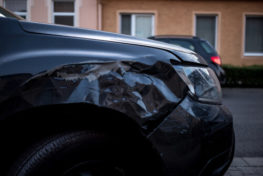 Wayne NJ Driving Without Insurance Attorneys
In New Jersey, all drivers are required to have liability insurance on their motor vehicles. It is an unfortunately reality, however, that car insurance is very expensive in the state and this partially explains why so many people find themselves charged with the violation of driving without insurance. Regrettably, the decision to drive after there has been a lapse of insurance exposes a person to extreme penalties. More specifically, a conviction on a charge of driving an uninsured vehicle triggers sizable fines, drivers license suspension, community service and jail. If you are charged with driving without insurance in Passaic County, it is important to contact a traffic attorney as soon as possible. At the Law Offices of Jonathan F. Marshall, every lawyer on our team has extensive experience defending clients against uninsured motorist and other traffic charges.
Penalties for Driving Uninsured in Passaic County
The consequences for driving without insurance depend upon whether it is a first time offense, a second offense, or even a third or subsequent offense (a.k.a. "repeat offender"). If you are convicted of this offense in Paterson, Little Falls, Clifton, Wanaque, Ringwood, Passaic City, Wayne, or other municipalities in Passaic County, you are subject to the following:
Fines of up to $1000 for a first offense and up to $5000 for subsequent offenses
Loss of your driver's license for up to 1 year for a first offense and 2 years for subsequent offenses
14 days of jail time for second or subsequent offenses
30 days of community service for repeat offenses
Court costs
A Traffic Defense Attorney You Can Count On
A driver can sometimes be wrongfully charged with driving without insurance or, on the other extreme, can be plainly guilty. Irrespective of where you fall within this range of knowledge as an uninsured driver, you should know that our attorneys win these cases far more than not. We employ a number of strategies to achieve a favorable outcome and an attorney from our firm would be more than happy to put our expertise to work for you. Our skilled traffic defense attorneys handle uninsured motorist and traffic violation cases in cities all over Passaic County, including Clifton, West Milford, and Passaic. Let our skilled Passaic County traffic lawyers evaluate your case at 1-800-333-4184 or email us today.