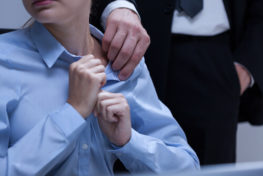 Rape Lawyers in Paterson NJ
Sexual assault, while less serious than aggravated sexual assault, is a charge that carries life-altering penalties. Sexual assault is a crime of the second degree, meaning that a defendant who is convicted could face up to ten (10) years in prison and additional serious ramification. However, sexual assault cases are often he said/she said cases which are defensible, especially by someone with experience fighting sex offenses likes aggravated criminal sexual contact, criminal sexual contact, luring, lewdness and endangering the welfare of a child. If you were indicted for sexual assault under N.J.S.A. 2C:14-2(b) or have just been charged with rape, call our Clifton Office or Wayne Office for immediate assistance at 862-203-4070. We will discuss the best approach for challenging your charge and file a bail motion to secure your release if you are still in custody.
Sexual Assault Law: N.J.S.A. 2C:14-2(b)
There are two categories of second degree rape set forth under N.J.S.A. 2C:14-2(b). In this regard, the statute provides that:
An actor is guilty of sexual assault if he commits an act of sexual contact with a victim who is less than 13 years old and the actor is at least four years older than the victim; or
An actor is guilty of sexual assault if he commits an act of sexual penetration with another person under any one of the following circumstances:
(a) the actor uses physical force or coercion, but the victim does not sustain severe personal injury;
(b) the victim is on probation or parole, or is detained in a hospital, prison or other institution and the actor has supervisory or disciplinary power over the victim by virtue of the actor's legal, professional or occupational status; or
(c) the victim is at least 16 but less than 18 years old and the actor has supervisory or disciplinary power of any nature or in any capacity over the victim or the actor is a resource family parent, a guardian, or stands in loco parentis within the household;
d) The victim is at least thirteen (13) but less than sixteen (16) years old and the actor is at least four (4) years older than the victim.
The statute obvious tends to get more complicated as you deal with all of the possible scenarios for a sexual assault provided under subsection 2 above. One of these categories would be what is commonly referred to as statutory rape. What should be clear to you is that, whether it is statutory rape or some other scenario under 2C:14-2(b), this offense is complex and should be handled by an attorney, preferably one with considerable experience like those at our firm.
Sexual Assault Penalties in New Jersey
A sexual assault offense is a second degree crime. This is why some individuals refer to this charge as second degree rape. An individual convicted of second degree sexual assault faces five (5) to ten (10) years in prison. A fine of up to $150,000 may also be imposed. There are ancillary consequences of a conviction under N.J.S.A. 2C:14-2(b) as well. A sexual assault conviction automatically implicates the No Early Release Act which requires that an individual serve at least 85% of their original sentence before they can become eligible for parole. Megan's Law and community supervision for life also apply.
Clifton NJ Rape Offense Attorneys
If you have been charged with any rape related charge at the Passaic County Superior Court or elsewhere, in towns like Little Falls, Wayne, Clifton, Paterson, Passaic City and Haledon we have the experience you need to defend this case. We feature four (4) former prosecutors and a staff of defense lawyers with the skills you are looking for. We can be reached for a complimentary initial consultation at 862-203-4070. You are also invited to schedule an in person appointment at our Wayne office.