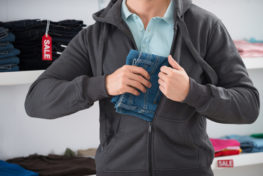 Shoplifting Defense Attorneys in Wayne NJ
Due in large part to the Willowbrook Mall, Wayne, New Jersey handles a tremendous amount of shoplifting cases every year. Shoplifting in governed by N.J.S.A. 2C:20-11(b). Depending on the dollar amount of the items in question, a Defendant can be charged with a either a second, third, fourth degree felony or a disorderly persons offense (misdemeanor). For more information on the offense of shoplifting, please checkout our Wayne, New Jersey shoplifting practice series. Furthermore, if you would like to discuss the facts of your case or your options, please feel free to contact our Wayne office directly at 862-203-4070. Our team of Wayne, New Jersey shoplifting defense lawyers on staff at the Law Offices of Jonathan F. Marshall are available 24/7 to assist in anyway possible.
Wayne Police are Seeking Assistance in their Shoplifting Investigation
According to the reports, the Wayne Police are seeking the public's help in an effort to help catch three suspected shoplifters at the Willowbrook Mall. The three wanted men stem from two separate incidents, one of which just happened this Thursday. According to the information released thus far, the Defendant is alleged to have cut the security cables and stole five (5) Michael Khors handbags from Lord & Taylor. In addition, after a brief struggle in the parking lot, the Defendant dropped the handbags and fled on foot. He is described as a standing about six (6) feet tall and weighing about 175 pounds.
If you or a loved one has been charged with shoplifting in Wayne, New Jersey or elsewhere in Passaic County, the Law Offices of Jonathan F. Marshall can help. If you would like to discuss your matter with any one of the eight Passaic County criminal defense lawyers on staff, please contact our Wayne Office at 862-203-4070.