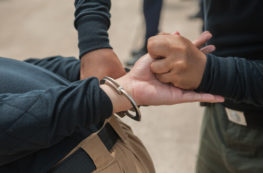 Resisting Arrest Defense Lawyers in Paterson NJ
A charge of resisting arrest can be filed as a disorderly persons offense, fourth degree crime or even a third degree crime depending on the underlying facts of the incident. Irrespective, this is not the type of charge that someone wants on their record as it has the potentially for being viewed very disfavorably. This is why it is a good idea for you to contact a skilled defense lawyer if you were arrested or otherwise charged with resisting arrest. What you should also know is that the attorneys at our firm, The Law Offices of Jonathan F. Marshall, are successful in avoiding a conviction to this offense altogether in a significant percentage of cases. We are ready to do our best to achieve precisely that outcome on your behalf as well. Give us a call for immediate assistance at 862-203-4070 if you have been charged with resisting arrest, aggravated assault, terroristic threats, eluding, simple assault, aggravated assault on a police officer in Clifton, Wayne, Passaic City, Little Falls, Paterson, Wanaque or another municipality.
How Does the State Prove Resisting Arrest?
In order to obtain a conviction of the disorderly persons offense of resisting arrest, the State must prove the following four (4) elements:
That the defendant prevented the effecting of an arrest;
That the person effecting the arrest was a law enforcement officer;
That the officer acted under the color of authority and announced his intention to arrest; and
That the defendant acted purposely.
Where the aforesaid elements are present and the accused attempts to flee the officer, then they may be charged with fourth degree resisting arrest. A case escalates to a third degree resisting arrest where:
Defendant used or threatened to use physical force or violence against the law enforcement officer or against another person; or
Defendant used any other means to create a substantial risk of causing physical injury to the law enforcement officer or to another person.
Physical force or violence means conduct which creates or threatens to create a substantial risk of causing physical injury to the public servant or another. Physical injury means bodily injury. Bodily injury means physical pain, illness or any impairment of physical condition.
What are the Penalties for Resisting Arrest in Passaic County?
If convicted of resisting arrest in the third degree, the defendant will face between three (3) and five (5) years in prison, as well as a $15,000 fine. Third degree resisting arrest is eligible for Pretrial Intervention.
Resisting arrest in the fourth degree also involves exposure to state prison and substantial fines. More specifically, fourth degree resisting arrest triggers up to 18 months in jail and a fine as high as $10,000. This is also a Pretrial Intervention eligible charge.
A conviction for a disorderly persons offense of resisting arrest involves as much as six (6) months in the Passaic County Jail, as well as a $1,000 fine.