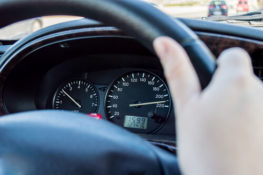 Speeding Attorneys in Wayne
While speeding might seem like a minor traffic offense, receiving a speeding ticket in Passaic County can have serious negative consequences, particularly if you are cited for excessive speeding or you already have points on your driving record. In addition to fines, points on your driving record, and license suspension, a speeding conviction in Passaic County can cause your insurance company to increase your premiums, leading to lengthy financial struggles. Unfortunately, many Passaic County drivers who are cited for speeding don't realize how damaging these consequences can be, and as a result, fail to aggressively fight speeding charges.
If you are a resident of Passaic County, New Jersey or have been charged with speeding anywhere in Passaic County, including Totowa, Wanaque, Bloomingdale, West Milford, or Little Falls, it is important to consult a Passaic County traffic offense attorney immediately, for advice about your situation. The attorneys at the Law Offices of Jonathan F. Marshall have extensive experience defending clients against Passaic County speeding charges and other traffic offenses.
The Penalties for Speeding in Passaic County
In New Jersey, the Motor Vehicle Commission (MVC) penalizes drivers convicted of speeding or other moving violations by assessing points on their driving record. The number of points assessed for a speeding offense depends on the number of miles per hour you were driving over the speed limit:
Driving 1-14 mph over the speed limit = 2 points
Driving 15-29 mph over the speed limit = 4 points
Driving 30 mph or more over the speed limit = 5 points
In addition, if the police determine you were speeding excessively, they may also charge you with reckless driving. If convicted of reckless driving, you are exposed to additional fines, a potential license suspension, 5 points and even the possibility of jail. The fine that may be imposed by the court is largely discretionary and are doubled with a N.J.S.A. 39:4-98 occurs in a 65 mph speed zone, construction zone or a safe corridor. If you get 6 or more points within a 3-year period, the MVC can charge you an annual fine called a surcharge. The surcharge is in addition to any fines you are required to pay the court for a speeding offense. The MVC can even suspend your driver's license if you have 12 or more points on your record.
A Passaic County Traffic Offense Attorney Can Help You
The experienced Passaic County traffic defense lawyers at the Law Offices of Jonathan F. Marshall have the skills necessary to protect your rights and defend you against damaging Passaic County speeding charges. We are often able to negotiate with Passaic County traffic courts on behalf of our clients to achieve dismissal of speeding tickets, reduction of points, or amended charges resulting in zero points. Not only have we defended clients throughout Passaic County, including residents of Paterson, Wayne, and West Milford, but we have also defended out-of-state motorists cited for speeding in Passaic County. Call us today at 1-800-333-4184 for a no-cost evaluation of your Passaic County speeding or traffic offense case.