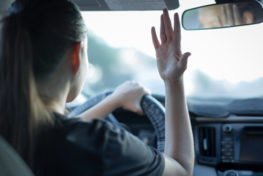 Wayne NJ Careless Driving Attorney
You may have received a ticket for careless driving or, worse yet, reckless driving. Issuance of this type of summons can result from any number of allegations including failure to drive in a safe manner or even an accident. Irrespective of the reason a N.J.S.A. 39:4-96 or 39:4-97 citation was issued, don't jump to the conclusion that the police officer or civilian complainant have already proved that you are guilty. A skilled traffic defense lawyer from our firm can help you avoid the negative consequences of a conviction if you have been charged with careless or reckless driving in North Haledon, Hawthorne, Paterson, Clinton, Little Falls, Wayne, Passaic City, Clifton or anywhere else in Passaic County. At the Law Offices of Jonathan F. Marshall, our attorneys have over 100 years of experience representing clients who have been issued a summons for reckless driving or another motor vehicle violation in Passaic County. We can help you too and are ready to review your case free of charge at 862-203-4070.
Reckless Driving Attorneys: Clifton, Paterson, Wayne NJ
The New Jersey reckless driving law is set forth at N.J.S.A. 39:4-96. It establishes a traffic violation for anyone would operates their vehicle "heedlessly, in willful or wanton disregard of the rights or safety of others, in a manner so as to endanger, or be likely to endanger, a person or property." The potential penalties for reckless driving include a fine of up to $500, jail up to 3 months, drivers license suspension and 5 motor vehicle points.
Lesser Offense of Careless Driving
Careless driving under N.J.S.A. 39:4-97 involves the operation of a vehicle without using proper caution or in a manner that may endanger another person or property. Any inattentive or distracted drivers whose actions cause a traffic accident can be ticketed for careless driving. If you are convicted of careless driving in Passaic County, you may be fined and/or sentenced to up to 15 days in jail. In addition, two points may be assessed on your driving record by the New Jersey Motor Vehicle Commission.
Passaic County Traffic Lawyers That Can Help You
When faced with careless driving or reckless driving charges in Passaic County, you need a proactive and experienced traffic defense attorney on your side. The Law Offices of Jonathan F. Marshall serves clients in Clifton, Wayne and all over Passaic County, New Jersey. Our lawyers have over 100 years of skill and knowledge to put to work for you in defending these charges. Call us today at 1-800-333-4184 to discuss all of your legal options.