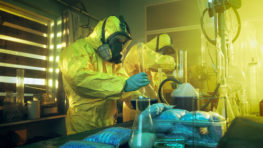 The criminal offense of operating or maintaining a drug production facility in Passaic County exposes one to some of the most intense drug penalties under New Jersey law. The criminal code provides at N.J.S.A. 2C:35-4 that it is a first degree felony ("crime" is the term used in New Jersey) to operate, maintain or finance a drug production facility. Our Passaic County CDS manufacturing defense attorneys are highly experienced in defending those accused of serious drug crimes including drug trafficking or maintaining a drug manufacturing operation.
Overview of the Law & Penalties: N.J.S.A. 2C:35-4
The scope of drugs covered by this law includes all Schedule I or II controlled dangerous substances ("CDS"), including cocaine, phencyclidine, flunitrazepam, marijuana (i.e. five pounds or more, or ten or more marijuana plants), methamphetamine, gamma hydroxybutyrate and lysergic. If an individual operates, maintains, finances, aids or otherwise promotes a manufacturing or production facility for one of these substances, he or she subjects themselves to the penalties provided under 2C:35-4. The specific elements that must be established by the prosecutor to obtain a conviction include:
The substance in question is a Schedule I or II form of CDS;
A facility existed to manufacture the substance; and
The defendant knowingly operated, maintained, financed, aided or promoted the facility.
If these elements are established, the accused is subject to imprisonment for a period of ten (10) to twenty (20) years. There is also a period of parole ineligibility that is triggered — namely, a requirement that the defendant serve at least one-half of his sentence before he can be released or paroled. The maximum fine under 2C:35-4 is also stiff and is the greater of $750,000 or five times the street value of the substance at the facility during the arrest.
Experienced Lawyers to Handle Maintaining a Drug Production Facility in Passaic County
If you are facing criminal charges for financing, maintaining or otherwise contributing to or participating in the operation or maintenance of a drug manufacturing facility, it is essential that you obtain legal representation from an experienced attorney as soon as possible. Our lawyers know the best strategies to defend individuals charged with a drug production facility in Passaic County. We evaluate police investigative procedure and potential violations of due process as well as other constitutional violations from the initial investigation through trial. Our office has extensive experience representing clients in the Passaic County Superior Courthouse as well as local municipal courts like Wayne, Clifton, Totowa, Hawthorne, Passaic City and Woodland Park. Call us toll free at 800-333-4184 or contact our Clifton or Wayne office online. We are committed to zealously fighting for our clients to avoid the enormous adverse consequences of a criminal conviction.