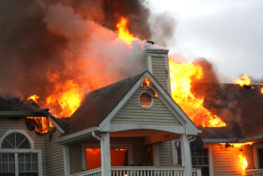 Arson is a serious crime in Passaic County, New Jersey. In accordance with the New Jersey Arson Law, N.J.S.A. 2C:17-1, there are four (4) varieties of this offense, including: (1) arson (a.k.a. simple arson); (2) aggravated arson; (3) arson for hire; and (4) failure to Report or Control a fire. While all arsons are felony offenses under NJ law, the degree of crime and related penalties that apply hinge on the variety of arson offense to which an individual is convicted. The type of arson an individual will be charged with largely depends on their mental state or intentions at the time the fire was started as discussed later in this article. You should also know that in addition to the jail exposure and other significant penalties that can result from an arson conviction, civil penalties may also be imposed. If you have been charged with arson anywhere in Passaic County, including towns like Haledon, Oak Ridge, Ringwood, Woodland Park, Paterson or Hawthorne it clearly is in your best interests to seek the assistance of a skilled defense lawyers. To this end, please do not hesitate to give our law firm at call for an immediate free consultation at 862-203-4070. We have been representing clients charged with arson, aggravated arson,  heroin distribution, stalking, harassment, cocaine possession and aggravated assault in Passaic County for over a decade.
Clifton NJ Arson Defense Lawyers
Arson a.k.a "Simple Arson Under NJ Law
Arson is a lesser offense than aggravated arson and, if convicted, constitutes a crime in the third degree. Arson, as a third degree offense, is punishable by up to five (5) years in prison. Additionally, substantial fines may be assessed to individuals found guilty of the offense. Conviction for arson requires a person to purposely start the fire, and in doing so, recklessly risk harm to (1) another individual, (2) another's building, or (3) a forest. Additionally, if the person starts the fire with the purpose of collecting insurance or avoiding building codes or zoning laws they can be convicted for arson.
What is Aggravated Arson?
Aggravated arson is a second degree offense. Conviction for this crime carries a penalty including five (5) to ten (10) years in prison and substantial fines up to $75,000. Additionally, Aggravated Arson is a No Early Release Act Offense (NERA). This means that the defendant must serve 85% of the sentence before being eligible for release on parole Aggravated Arson requires the person purposely start the fire. For the State to convict an individual of Aggravated Arson, they must show that the fire was set with the purpose of destroying or damaging a structure or individual. Typically, if a person purposely starts a fire with the purpose of damaging a structure, and in the process he puts another individual at risk of bodily injury, then they will face charges for aggravated arson.
Arson for Hire
Arson for Hire is the most severe charge a person can face under N.J.S.A. 2C:17-1. Specifically addressed in N.J.S.A. 2C:17-1(d), Arson for Hire is a first degree offense. Conviction under this section carries a penalty of between ten (10) and twenty (20) years in prison. In order to convict someone of this offense, the State must prove beyond a reasonable doubt that an individual either paid or accepted something of value in exchange for arson activities. Arson activities are those acts that would violate one of the other arson charges under N.J.S.A. 2C:17-1.
Failure to Control or Report Dangerous Fire
Failure to Control or Report a Dangerous Fire is a crime in the fourth degree. It is the least severe of all possible arson charges. If convicted, an individual will face up to eighteen (18) months in prison and substantial fines. For the State to convict an individual of this offense, they must show that: (1) an individual was aware of a fire that is endangering life or substantial property, (2) the individual failed to take efforts to put it out or promptly report it, AND (3) (a) he has a legal or contractual duty to prevent the fire, or (b) he or his agent started the fire.
West Milford NJ Arson Attorneys
If you were arrested and/or charged with arson, aggravated arson, arson for hire, or failure to report a fire, give our law firm a call. We feature one of the largest criminal defense teams in the state that includes several former prosecutors. An attorney is ready to assist you 24/7 at 862-203-4070.