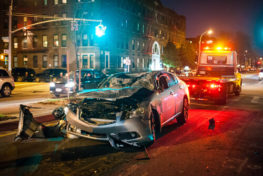 Leaving the Scene of an Accident Attorneys in Wayne NJ
There are any number of reasons that can cause a person to leave the scene after an automobile collision. Irrespective of whether it was the result of panic, lack of knowledge of the law, or something more sinister, there are serious penalties for a person who is found guilty of a violation under N.J.S.A. 39:4-129. A conviction for a hit and run can result in significant fines, license suspension, and even jail. An experienced defense lawyer is an absolute necessity whenever someone is charged with leaving the scene in our opinion. In this regard, the defense team at our firm, the Law Offices of Jonathan F. Marshall, features 7 traffic attorneys possessing over 100 years of experience, including many years as municipal prosecutors. Our lawyers have the knowledge and muscle you need to defend your case and we would be more than happy to speak to you in a free initial consultation at 862-203-4070.
N.J.S.A. 39:4-129 – Leaving the Scene Law
This law requires a driver to remain at the scene following his or her knowingly being involved in a motor vehicle accident. A driver also has an obligation to present his or her drivers license, car registration and other contact information at the scene. When an individual fails to comply with this law, the motorist may be charged and convicted of leaving the scene. The penalties that apply upon conviction of this offense hinge on whether someone was injured in the accident and/or the extent of any property damage.
Person Injury Involved. If someone is hurt or killed, the punishment includes a fine of up to $5,000, up to 180 days in prison, a mandatory license suspension of one (1) year, and 8 motor vehicle points;
Property Damage Only. When an accident results in property damage alone and a driver is convicted of leaving the scene, the penalties include a fine, mandatory license suspension of six (6) months, motor vehicle points, and possible imprisonment.
Leaving the Scene of an Accident Lawyer in Paterson NJ
Our Passaic County traffic offense attorneys have successfully defended clients against these charges for decades. There is no reason to believe that our lawyers cannot do the same for you so that a mandatory license suspension is avoided. We have extensive experience in courts throughout Passaic County, in towns like Little Falls, Wayne, Paterson, Clifton, Passaic City, Wanaque, West Milford and Haledon. A lawyer for the firm would be happy to review your case and discuss your options in a free consultation. Contact us at 862-203-4070.