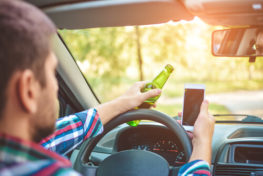 Paterson is the most populated municipality in Passaic County and one of its biggest sources of DWI charges in the region. The city actually has the second highest density in the nation and this, combined with major highways like Interstate 80, U.S. Route 46 and the Garden State Parkway, result in over three hundred charged with DUI annually. If you were stopped and arrested on suspicion of drunk driving or operating under the influence of drugs in Paterson, it is important that you hire the right attorney in order to give yourself the best chance of avoiding a conviction and serious penalties. There are multiple reason where selection is so pivotal include the fact that New Jersey has outlawed plea bargaining of DWI cases thereby making the skill of your lawyer a major factor in the outcome of your offense.
DWI Attorneys With the Qualifications To Succeed In Paterson NJ
The defense team at The Law Offices of Jonathan F. Marshall is one of the most highly experienced in DUI that you will find. Several DWI attorneys at the firm are former prosecutors that make up a staff with over 100 years defending charges like yours. Three of the lawyers are also dual certified on the Alcotest and as instructors in field sobriety testing. There are less than 10 in the entire state with these credentials despite these two disciplines being the primary methods for police in Paterson and elsewhere to prove intoxication. An attorney on our staff is available now to undertake a thorough view of your case and advise you as to the best course of action. Contact us online or call our Wayne Office at 973-839-4007 for a free consultation.
DUI Charge in Paterson Municipal Court
Paterson Municipal Court possesses jurisdiction to deal with all DUI charges issued along the 157.62 miles of roadway in the city. The court is located at 111 Broadway, Paterson, NJ, and is open weekdays from 8:30 a.m. to 4:30 p.m. You can reach the municipal court by telephone at 973-321-1515. The Municipal Court Direector is Manuel Quiles. Gloria Schweitzer is the Court Administrator. There are six judges that serve in Paterson with Honorable Kevin McDuffie serving as Chief. There are a total of twenty three court session every week to conduct arraignments, motion hearings, trials and other proceedings. The day sessions take place weekdays beginning at 9:00 a.m. with night court Monday through Wednesday at 6:00 p.m. The following is an interactive map to assist you with directions to the municipal court.
Paterson DWI Lawyer
Paterson is just about as busy a venue as you will find. There is so much volume that the municipal court conducts sessions every working day and three nights on top of that. Not surprisingly, our attorneys have considerable experience handling offenses in this jurisdiction as the largest DUI firm in New Jersey. If you are looking for a DWI lawyer with legitimate qualifications and a long track record of favorable outcomes in this area of law, call our office in Wayne NJ anytime 24/7 at 973-839-4007. Initial consultations are always free of charge so you have everything to gain by contacting our staff now.