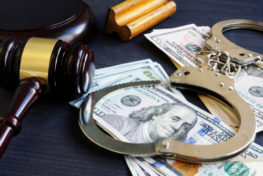 In accordance with N.J.S.A. 2C:29-7 of New Jersey law, the offense of bail jumping can arise in two ways. First, it occurs when a defendant flees after being released on bail, including being released on their own recognizance. Second, it can occur when someone fails to appear after being released pursuant to a court order, which requires return for a later date. Because bail jumping is almost always an indictable crime, a conviction results in a felony criminal record, as well as potential jail and significant fines. If you have been charged with obstructing the administration of justice, bail jumping or a similar offense in Paterson, Wayne, Passaic or another municipality, give us a call to speak to an experienced criminal attorney. A lawyer on our team can be reached 24/7 at 862-203-4070.
Paterson Bail Jumping Defense Lawyers
How Does the State Prove a Bail Jumping Charge?
For the State to convict a defendant of bail jumping under N.J.S.A. 2C:29-7, the Prosecutor must show that the defendant failed to appear without lawful excuse. To prove this, the Prosecutor must establish the following four (4) elements beyond reasonable doubt:
That the defendant was set at liberty by court order;
That the defendant failed to appear in court despite the fact that his or her release from custody was conditioned on their appearance in court;
That the defendant failed to appear at the specified time and place; and
That the defendant lacked a lawful excuse for his non-appearance.
The gist of these requirements is that the non-appearance must be intentional and willful. Bail jumping would not, therefore, apply where it was impossible for a defendant to appear because of incarcerated, hospitalization or some other circumstance preventing them from appearing.
What Grade of Crime is a Bail Jumping Offense?
The grade or degree of a bail jumping offense an individual is charged with will depend on the grade of the underlying offense, which the defendant attempted to avoid. If the offense for which the defendant's presence was required is in the third degree or higher, then the bail jumping charge will be a third degree offense. It is fourth degree bail jumping to flee or intentionally fail to appear on a crime of the fourth degree. The bail jumping charge is a disorderly persons offense if the underlying violation is also a disorderly person. Lastly, it is a petty disorderly charge for bail jumping where the original charge was a petty disorderly persons offense.
What are the Penalties for Bail Jumping in NJ?
An individual is subject to three (3) to five (5) years of incarceration and a $15,000 fine for bail jumping in the third degree. Fourth degree bail jumping may lead to eighteen (18) months in jail and a $10,000 fine. Finally, a disorderly persons offense carries a up to six (6) months in prison jail term and a $1,000 fine.
If you were arrested for or are facing charges for bail jumping, our law firm, The Law Offices of Jonathan F. Marshall are prepared to make sure you are defended. Lawyers who are experienced in bail jumping are a telephone call away at 862-203-4070 and initial consultations are always free. Give us a call.