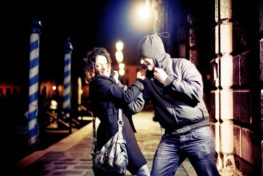 Under N.J.S.A. 2C:12-1(b), an individual faces potentially severe penalties if they are convicted of aggravated assault involving serious bodily injury. The term "serious bodily injury" is defined under New Jersey law to refer to the worst variety of injury an individual can sustain other than death. It should not, therefore, be surprising that the law imposes stiff jail, fines and other penalties for this variety of aggravated assault offenses. In our judgment, the best way for you to avoid the consequences of a serious bodily injury aggravated assault charge is to hire a skilled defense lawyer. In this regard, we believe our law firm, The Law Offices of Jonathan F. Marshall can provide you with exceptional experience in this area of law, including our offering a defense team that possesses over 100 years of collective experience and includes at least four (4) former prosecutors. Call our Wayne office any time of day for an immediate consultation free of charge. We have been representing clients charged with aggravated assault in Totowa, Woodland Park, Wanaque, West Milford, Little Falls and Paterson for over a decade.
Haledon NJ 2nd Degree Aggravated Assault Charges
Definition of Serious Bodily Injury
Pursuant to N.J.S.A. 2C:11-1, serious bodily injury is defined as "bodily injury which creates a substantial risk of death or which causes serious, permanent disfigurement, or protracted loss or impairment of the function of any bodily member or organ".
Elements of the Offense and Gradation
To convict someone of an aggravated assault involving serious bodily injury, the State must prove that the defendant committed one of the following two acts:
Attempted by physical menace to put any of the following individuals in fear of imminent serious bodily injury: law enforcement officer, fireman, medic, school employee, judge, child protection agency employee, bus or rail employee, correctional officer, utility worker, or health care employee while that person is identifiably in the performance of their duties; or
Attempted to cause serious bodily injury to another, or causes such injury purposely or knowingly or under circumstances manifesting extreme indifference to the value of human life recklessly causes such injury.
If the violation stems from conduct falling under (1) above, it is a third degree crime. A violation involving (2) above is a second degree crime.
2nd Degree Aggravated Assault Charges in Clifton NJ
Penalties For An Aggravated Assault Involving Serious Bodily Injury
If convicted of a third degree serious injury aggravated assault, a individual faces three (3) and five (5) years in a New Jersey State Prison and a fine as high as $15,000.00. A second degree serious injury aggravated assault carries five (5) to ten (10) years in prison and a maximum fine of $150,000.
Aggravated Assault Resulting in Serious Bodily Injury, Passaic County NJ
If you were charged with an aggravated assault and bodily injury is alleged, our attorneys are here to assist you. An attorney on our team, perhaps one of our former county prosecutors, would be more than happy to review the facts of your case and discuss how we can best defend you against this charge. Give us a call at 862-203-4070.